January 31 2005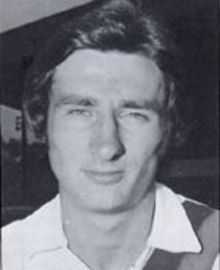 Iain Gordon has fond memories of great centre-half Ian Evans...
I don't feel comfortable calling footballers "heroes." The army people serving in Iraq are my idea of heroes.
However one definite Palace legend is Sunderland's assistant manager Ian Evans who played under Allison and Venables alongside Sansom and Cannon in those heady middle to late 70's, prior to promotion to the top flight.
Tall and slim he was the ideal partner for the stockier and more robust Jim Cannon. Despite his slender build Evans was strong in the tackle, superb in the air and had considerable skill on the ball.
He joined Palace from QPR in 1974 as a make weight, with Venables, in the Don Rogers deal. We've got rid of a few good players over the years to Rangers, some for silly money but we definitely got the better of this one.
Rogers was past his best and suffering from a hip injury. Evans was superb in his time at Palace not just from a defensive point of view because he scored some great goals as well. His overall tally over four years was 16 in 163 games, including a hat-trick, not bad for a defender.
He is known as 'Taff,' despite being born in Surrey, and it was his ancestry which enabled him to play with distinction for Wales on 13 occasions during that period.
Sadly he was never to make the big promotion season of '78/'79 as he broke his leg in a tackle with George Best the season before. It was not given as a foul but the challenge enraged certain Palace players, particularly Rachid Harkouk who was known for his volatility.
Whatever the case there could be no good reason for Best not contacting Ian subsequently, but he never did. Ian never really appeared to recover from that injury and noticeably carried the injured leg.
It was to his great credit though that he continued playing and he transferred to Barnsley in December 1979 and helped them to promotion from Division 3. He later became Coppell's assistant at Palace before going on to manage Swansea.
I have had the privelege to meet Ian on a number of occasions. He is a quiet unassuming man who prefers to be out of the limelight, working steadfastly and efficiently behind the scenes.
Thus it was no surprise when the Swansea management didn't work out and he latterly forged his ideal and successful long term association with Mick McCarthy, first at Millwall then Ireland and Sunderland.
---
Feel like writing about a current Crystal Palace issue? Email it to us and we'll publish your words for Eagles around the world to read.