February 23 2005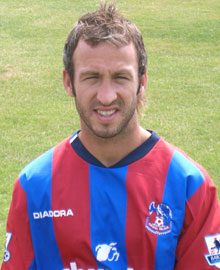 Crystal Palace boss Iain Dowie feels Shaun Derry's £300,000 move to Leeds was the right move for all concerned after the midfielder ended his two-and-a-half year spell at Selhurst Park last week, by Stuart Pink.
The 27-year-old former Portsmouth player had become frustrated by his lack of first team football at Palace this season due to the form of Michael Hughes and Aki Riihilahti, plus the emergence of Ben Watson and TOM SOARES.
After a two-month loan spell at Nottingham Forest, where he made eight appearances, Derry was keen to reunite with his former Sheffield United coach Kevin Blackwell at Leeds.
It's a move which is backed by Dowie. Dowie said: "Apart from playing a major role in the end of last season, Shaun hasn't played a great deal under me.
"I never had any problems with him, he's a good lad, but I felt the deal was right for us and the club and right for Shaun because he wants to play some football, it's a big, big club Leeds so we have agreed a deal to suit all parties."
The Palace boss admitted he was always honest with Derry regarding his future at the club and said he would have continued to involve Derry in the squad even if his move did not materialise after his loan spell.
Dowie said: "I think you have to tell him straight.
"Last year there wasn't a great deal to knock on the door about was there? This year he would knock on the door because the results weren't quite what they were, but we're now in the Premier league.
"I'm not one of those mangers who says Shaun you're right give it a couple of weeks and go away'.
"Shaun's a very good player and he done very well for us, but unfortunately Hughesy and Aki were in such good form last year. That's the truth of the matter."
Dowie admitted playing for a club the size of Leeds was too good an offer to turn down and believes Derry has made the correct decision.
Dowie added: "Leeds clearly is a massive club, not even a sleeping giant, it's just a giant which has had a bad couple of years but it is a huge club.
"Look at their crowd against Sunderland this year which raised a few eyebrows, 43,000, it tells you of the magnitude of the club and it's a good move for him."