February 26 2005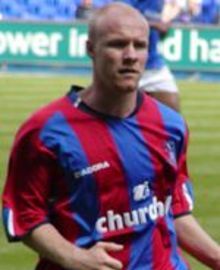 Two Andy Johnson penalties earned the Eagles vital points in their battle against the drop, by Simon Pophale.
Iain Dowie is a man who gets what he wants, and gives as good as he gets. This season the maxim "In Dowie, we trust" has been bandied about these message boards as much as Bouncebackabilty.
Yet our support for him is unswerving. Yes he has made the odd mistake over the course of the season, but when he asked the fans for a "hostile" atmosphere, that is what he got.
It was one of the strangest games of the season, with players at both clubs appearing having represented each other before. In fact it surely was the highest in any one game where this has occured. Palace had AJ and MIcheal Hughes, while Birmingham had not only Steve Bruce, but Clinton Morrison, Julian Gray and Mattthew Upson who had all played for us before on their team,while Nico Vaesen was on the bench. It was going to be quite an afternoon. Which it turned out to be.
Phil Dowd, who had presided over 2 defeats for us this season, had little time to waste before getting involved in the action, waving away on 10 minutes a penalty decisison when Tebily looked to have brought down AJ in the box. Worse was to come though as immediately afterwards, Julian Gray threaded a ball through to Morrison, which our former hero put inches wide. Minutes later he was at it again, although this time helping us out after heading Walter Pandianis' goalward header wide.
Jermaine Pennant, on loan to Birmingham from Arsenal was the heart beat of all thier good endeavours and when Granville made his one (and only) mistake in the first half, misjudging a flighted ball which set Pennant free in the box, his cross was poor and Kiraly saved with ease.
But it was a stop - start half with Dowd playing the lead role, blowing up at every opportunity and denying us every challenge, whether fair or foul. As the half hour mark came and went, it was apparant that he was favouring really only one team. Yet despite countless free kicks and corners, Birmingham could do nothing with them.
Which left the game being a scrappy affair. Yet a sublime bit of skill set up our first real chance, and it came from possibly our most improved player of the season. TOM SOARES back flick saw him recieve the ball from Micheal Hughes and his run into the box was checked unfairly by the clumsy Upson, and referee Dowd pointed to the spot. AJ despatched the penalty and we were 1-0 up.
Or so we thought as Dowd decided once again to favour the Blues and asked AJ to take it again, due to encroachment from Freedman. AJ said fair enough and produced and even better penalty with Taylor rooted to the spot. 1-0!!!!
We could have had a 2nd had Clapham not intercepted SOARES intended pass for AJ but to go in 1 up, was a great start for us. We were not on top as Birmingham had the better chances, but a lead is a lead.
Which we looked to increase the moment the 2nd half began. We attacked with more desire and could have gone even further ahead when Freedmans' shot at goal was tipped over by Taylor. Minutes later he could have had his first goal when Hughes sent him free on the left, but his cut in and shot was not enough to beat Taylor. Oh, when will you get a goal Dougie?! I for one, am desperate for him to get one as once the first one goes in, he will get a hatful. He should have had 5 already this season.
But we were dominating possession and the ball fell more often to Wayne Routledge on the right, whose neat passing and skillful retention of the ball, was yielding results for us and frustrating Birmingham into rash challenges. From one of these close situations, we got our 2nd of the afternoon.
Neat interpassing saw Boyce get the ball in from the right and AJ, who got in behind Upson was shoved over and Dowd had no hesitation into pointing to the spot. AJ looked up, smashed it straight down the middle and ran to the Main Stand to celebrate. 2-0 and we were cruising.
And Crusing it was as our defensive unit was as tight as a ducks' butt and despite Pennant having a late chance, his shot was struck straight at Kiraly. Indeed it was a bad day for Bruce, hounded with insults every time he came to the edge of the technical area, Morrison who was substituted for Robbie Blake with 20 minutes to go and Julian Gray, who seemed not be able to handle the anger despatched towards him.
He was very much below par and even from the warm up, did not look like he could handle the pressure on him as he came out with Morrison for the warm up, not on his own. The jeers turned to cheers for Dowie and for Nico Vaesen, whose heroics last season helped us into the Prem. But at the final whistle, we could celebrate our first Premiership double for a long long time (Middlesborough in 92-93 was the last time I think) and we move a step closer to safety. It will be a massive March with Chelsea and first, Manchester United on the horizon. But we can look upb eat now after this terrific performance.
Oh and to Steve Bruce, we have only one thing to sing: "Thank you very much for Andrew Johnson,
"Thank you very much, thank you very very very much,
"Thank you very much for 6 points this season,
"Thank you very very very very very very very very very very much!!!"
Men of the Match - The entire Palace Defence. Organised and solid.