March 5 2005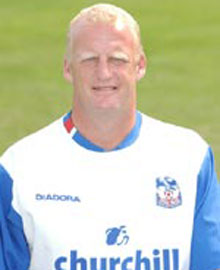 Iain Dowie's men held Manchester United to a 0-0 draw at Selhurst Park, writes Simon Pophale.
It was not so much Manchester as Madchester as the circus came to town on Saturday. Reds fans wearing masks, Cantona Day? What a load of rubbish.
Why would a bunch of people want to celebrate an act of brutality? Mind you, these are the so called "fans" who idolise Roy Keane, the biggest thug on the football field since Vinnie Jones.
Iain Dowie, clearly remembering the battles of old, made one change in Vas Lakis bolstering the midfield, in place of Dougie Freedman.
The first half really went to plan, as we came out suitably charged up and up for the fight. Despite there being not much to go on in the way of chances, TOM SOARES, Mikele Leigertwood all attempted to place the United defence and Gabriel Heinze in particular, with no avail. Indeed, Uniteds only effort in the first 20 minutes, was a corner.
But slowly and surely, United gathered pace and with the help of referee Mark Clattenburg, had a 12th man which stopped virtually every contact, whether minor of major, from a Palace player on a United one. I now see first hand at why United win games, with decisions going their way when in reality, these are NOT given every week when other teams play. One such challenge from Mark Hughes on Alan Smith, although this deemed a yellow card, served up the atmosphere and sent up the temperature a few notches.
From the fre kick, Roy Keane who made a perfect run from an on side position, was called off side. Relief around Selhurst was tempered very quickly to anger, as Roy Keanes' reaction was that of a petulant child, who was not going to get his way. Disgraceful behaviour.
United continued to pile on the pressure, but each time, Ryan Giggs being the catalyst for most of thier good work, found the Palace defence to be in no mood to give anything away. Indeed, Emmerson Boyce kept him at bay for the most part, and the only time that Giggs managed to supply a ball to another red shirt, the big frame of Kiraly kept out a goalbound Van Nistelrooy effort after a lofted pass from Rio Ferdinand.
Despite the constant pressure from United, whose passing at times was nonchalent and each time to feet, we would not budge.
The back 4 of Sorondo,Hall, Granville and Boyce performed admirably under pressure and for all Uniteds' possession, free kicks and general assistance given by Clattenburg, the score remained 0 -0 at half time.
With just over 26,000 in the ground, the atmosphere was strange to say the least. Most supporters would not want to shout Ian Wright (Wright, Wright) or 3 - 0 as past memories of matches with Moanchester. (Not even 5 - 0, 5 - 0!) but the United Fans would NOT stop praising the self styled "Le Roi" Eric Cantona. Flags waved and while it was a good display, chants of "Cantona, Cantona" etc, could be seen as insulting to Uniteds current crop of talent than ourselves.
Chants were returned of "Red and Blue Army" and "USA" with louder voices, to show that once and for all, we were not going to become a faceless corporate brand and that we live in the present. These are for us, exciting times.
With no changes, the 2nd half began and much of the routine of the 1st continued. Mark Clattenburg, was becoming more of a croupier than a referee, dealing out cards as early as the 2nd minute, to Sorondo for a challenge on Giggs.
But that did not stop United dealing out pressure, be it fair or foul as the match went on. Rio Ferdinand aimed a blatant kick at Sorondo which was met with derision by the Holmesdale, yet nothing was given.
Ferguson, who opted to rest thier "star" players with Milan in mind, brought on Ronaldo and Scholes in an effort to breach our defence. Then with a rare attack from ourselves, Vas Lakis was beaten to a cross by Howard. When will Vas score? Not today and not the next game either, as shortly after this, he was carded for a late tackle on Scholes and then five minutes later, another late challenge on Keane was met with a red card.
Rising Greek blood maybe, but there was no argument about the sending off. Dowie took off Routledge and brought on Borrowdale, to increase the defensive aspect and it was a good move, as 8 minutes later , Wayne Rooney entered the fray.
From then on, it was the alamo, 20 minutes left and we were under the cosh. Had Van Nistelrooy been fully fit and with match practice, he would have put away chances on 74 minutes, which Kiraly got a glove to, 78 when one on one shot at Kiraly and on 88 when the ball came over and he shot over from 5 yards.
Wayne Rooney was doing also his amount of damage, running through 3 tackes with moments of his arrival and with Boyce apparantly shoving him in the box, the referee waved play on, only for Rooney to adopt the usual United action of running to the referee on every decision, lambasting him and shouting obscenties. That earned him a yellow card.
From that moment on, the tide turned, every United shout for a corner, free kick or throw fell on deaf ears and the ref waved play on. The whole ground rose up to proclaim to our heroes "We're proud of you", to taunt the United fans of "We support our local team" and to drown out any response with " Iain Dowies' Red and Blue Army".
United were getting nothing from Clattenburg despite thier constant attacking and not every a Ryan Giggs lob with Kiraly out of his goal, would go in, Kiraly somehow getting a touch on it to send it onto the top of the goal, but no corner given and United seemed out of luck.
Which when the 4th Official signalled for 4 more minutes, we all knew it was for longer. Indeed, Clattenburg signalled for full time a full 7 minutes after the end of normal time. With that whistle, cheers erupted from all 4 corners of Selhurst Park.
United had failed to beat us, even with 12 men against 10 at the end. It did not matter, as we had salvaged another point towards survival.
Man of the Match: Emmerson Boyce - last season who was playing against League 1 sides, today marshalled Ryan Giggs as if he had played Premiership football all his life.Outstanding.