March 15 2005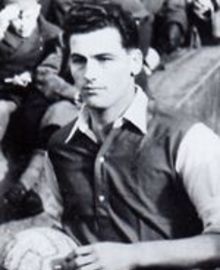 Striker Cliff Holton used to wear gloves back in the 1960s - but he was certainly no pansy, recalls Iain Gordon.
During the recent cold snap I notice that the gloves issue has come up again. It's been suggested that players who wear gloves send out the wrong message and indicate that they are not really up for a tough battle in the raw elements.
I remember the time when Lee Bowyer played for Charlton against us at Selhurst and the chant went up, "Who's the poofter in the gloves?" Mind you it was a fairly mild night.
To be honest it's so common now that I don't even notice which Palace players wear them. Am I right in thinking that Wayne Routledge does?
However, before we castigate the modern day pampered super stars it is worth recalling that none other than our own Cliff Holton used to wear gloves, and yellow ones at that. He was one rough tough individual and you would only question his commitment at your peril.
Holton was an ex-Arsenal player who was our centre forward from December 1962 until May 1965. He scored 49 goals in 112 appearances for Palace, not a bad return.
Now sadly deceased he was a highly-intelligent man but was totally uncompromising both as centre forward and, John Charles-like, as a centre-half.
During the big freeze of 1962/63 I went with my mates to the Goldstone ice rink to see the begloved and beloved Holton score, with another Palace legend Peter Burridge, in a totally one-sided game in which we beat the Seaweed 2-1.
So all in all I'm not sure if I could question the commitment of the glove wearers. At least none of our players have ever worn tights like a certain Scumwall player!