March 22 2005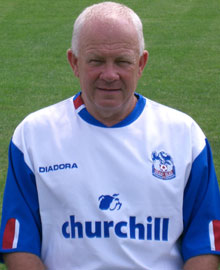 John Harbin's now legendary training regime often has the Palace boys embarking on a bout of fisticuffs inside a boxing ring, writes Matt Amer.
The cut and thrust of sparring should improve both their speed and reactions, while a boxer's extreme stamina can also come in handy at this end of the season.
What the Palace squad really needs though, over these last eight games, is the ability to take a blow square on the chin, stumble, maybe even fall, but get back up again, brush themselves off and fight even harder than they were before.
This tenacity was evident in the first half on Saturday. Frank Lampard's impressive 30 yard rocket could have been the haymaker for other clubs, but Palace battled back and the man with more fighting spirit than the entire cast of ITV2's The Contender, Aki Riihilahti, put Palace back in the game.
Pundits often claim football is a game of 'ifs', but if only our own lightweight champion AJ could have landed the hammer blow at the end of the first half, instead of pulling his shot uncharacteristically wide of a fairly open goal, it could have proved the psychological blow that was the undoing of the champions elect.
Instead, similar uncharacteristic errors from the Palace rearguard and the unpyjama-ed Gabor Kiraly proved our undoing.
Still, Chelsea had not lost at Stamford Bridge in 13 months and Aki's goal was only the fourth conceded there all season, so the result, gutting as it was, was no great surprise. More of a surprise was results elsewhere.
Possibly Palace's most dangerous rivals, Southampton used their greater reach, in the form of half-man, half-beanstalk Peter Crouch, to their advantage to get the better of a Middlesbrough side still punch drunk from their mid-week European encounter with Sporting Lisbon.
Steve McLaren's side have been on the slide in recent weeks, and without Viduka, Parlour and Boateng – all of whom look likely to be back for the Palace match in two weekend's time – were unable to cope with Southampton's obvious, yet irresistible, tactics of hitting high balls to Crouch. (While I think of it, isn't it ironic that the tallest player in the Premier League is called Crouch?)
Fighting spirit was also out in full force at the Valley, where Bryan Robson's West Brom, in a valiant attempt to prove destiny wrong, notched up their first away win of the season.
Some of that fight may have come from the Baggies fans, for whom free travel had been laid on to ensure a loud reception for the away team.
But all the fight in the world is no use without a little bit of guile to open the right doors and in Zoltan Gera, who swivelled Platt-esque to volley in a cross for West Brom's first goal, the Baggies have a player with skill to spare.
Three points away from home is like gold dust at the bottom of the table, but with the 'bottom at Christmas' tag hanging over their head, even a truckload of travelling fans, Gera's brilliance and mini-Ronaldinho look-a-like and hat-trick hero Rob Earnshaw might not be enough to save them.
Norwich really need to work on their ring craft if they are to survive the battle. They fell to a cheap sucker punch at the weekend.
It would seem that the Bolton mascot dressed, unsurprisingly, in a Bolton kit, was enough to upset the Norwich defence who kept confusing him for an extra player. If they are relegated from the Premiership this year, it may be because their back four cannot distinguish between a footballer and a comedy lion.
Clearly they were too busy watching their furry friend to close down Stellios as he shot from the edge of the area, curling a beauty past Rob Green to keep Bolton in the hunt for a European berth.
With eight rounds left to go, the fight could still go to anyone. As time goes on and fortunes change, it is looking more and more likely that it will go all the way to a points decision on the last day rather than an early knockout.
Portsmouth and Fulham may yet be drawn into the scrap. But of all the teams slugging it out at the bottom, only one has a manager who look like he's gone twelve rounds and still been standing. Seconds out…
---
Email Matt with any of your comments to matthewamer@yahoo.co.uk