March 23 2005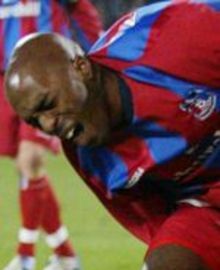 Wayne Andrews scored twice in the reserves' 4-1 win at Derby County.
Andrews put Palace in front with a long-range strike that flew into the top corner of the net after 19 minutes.
Ten minutes later, he was hacked down in the penalty area by defender Dan Martin and Dougie Freedman converted the spot kick.
Five minutes before the break, Andrews robbed Martin of the ball and fired home from a tight angle.
Derby scored their only goal of the night in the 81st minute with a Junior header from six yards.
But Anthony Danze extended the Eagles' lead with a header in the 88th minute. Palace are now third in the FA Premiership Reserve League South.
Palace: Wilkinson, Wilson, Wiggins, Watson (Watanabe 70), Hudson (Welch 62), Togwell, Berry, Danze, Freedman, Andrews (Grabban 63), R Hall.
Subs not used: Banks, Spence.