March 24 2005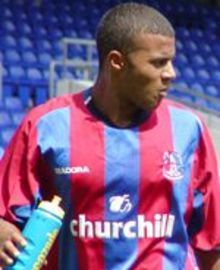 Crystal Palace boss Iain Dowie has admitted his surprise over Tom Soares' continued exclusion from the England U21 squad, by Stuart Pink.
Despite starting the Eagles' last 11 games, the 19-year-old midfielder has missed out on selection for the squad to play Germany and Azerbaijan this week much to the amazement of Dowie who can not understand how his form can be ignored by U21 boss Peter Taylor.
Dowie said: "Wayne Routledge is in it which is great, quite right too, but name me a young centre midfield player who is playing in England?
"Who is there in the Premier League? Tell me? Darren Carter maybe? Who? We've made some discreet enquiries to the England coaching staff and we'll talk again."
Dowie believes Soares is more than capable of playing at international level and has all the attributes to make it right to the top of the game.
Dowie said: "Tom Soares is more than capable. He played well on Saturday again. He's powerful, 6ft 2in, great in the air, brave, gets a goal, you play him central, you play him wide, play him left, he can play all them roles.
"Look at international football. He's suited to play in that, Tom is suited to play top level football, very athletic, good technique, my point is that Tom will become an outstanding player."
Like Soares, Ben Watson also failed to make Taylor's squad, despite featuring in the former Palace legend's last two squads.
But Watson's exclusion is more justified than Soares', as Watson has rarely featured for Palace since he made his U21 debut against Spain last November.
Dowie said: "I think Ben's paid the price for not being in the Palace squad, there's other players who are playing lower down who are included in the squad, but I think there is a group of particular people that Taylor likes."