March 30 2005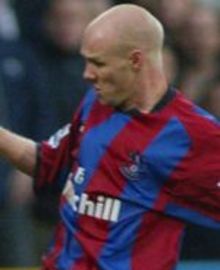 I'm gutted for Andrew Johnson and his spluttering England career, writes Neil McSteen.
Played out of position for his debut against Holland, AJ is then sent home by Sven for treatment on an ankle problem, missing the games against Northern Ireland and Azerbaijan.
Interestingly, Kit Symons remarked last Friday that if Palace were due to play then AJ would have started.
I suppose we should be thankful to the FA for being overcautious with our star player, but I can't help but feel he would have opened his international scoring account had he been involved.
But AJ has time on his side, something our Northern Irish international Michael Hughes doesn't have.
Available for selection for the game away in Poland after serving his suspension for tangling with Robbie Savage, Hughes is apparently not wanted.
Bizarrely, manager Lawrie Sanchez has told Hughes that he has no place in his starting XI.
Anyone watching his side collapse against England would surely know that a rampaging Hughes is sorely needed in midfield.
While I'm dishing out partisan advice to international managers, I might as well offer England U21 manager Peter Taylor two words.
TOM SOARES.
A midfield partnership with TOM Huddlestone is long overdue.