April 7 2005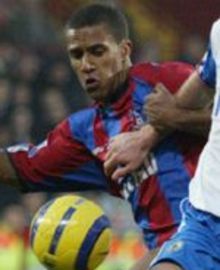 Is Wayne Routledge going to play against Everton? After Saturday's shirt throwing antics, the Routledge question is once again on everyone's lips rather than why we failed to overturn a poor Middlesbrough side, writes Neil Mcsteen.
I've always defended Wayne, feeling that he has been misguided by his advisers and at the same time let down by Palace insisting on dealing directly with the player instead of his agent over a new contract.
With his January transfer window move to Spurs also falling through, it is fair to say Wayneís mind hasnít fully been on the job, but he has managed to put in the performances for us.
But what now? It doesnít help that we have ignorant fans who feel their £40 entrance fee entitles them to dish out hideous abuse, but Wayne showed naivety in responding to these fans in the Main Stand.
I donít think Wayne fully understood, going into Saturdayís game, most of the crowd have conveniently forgotten his want-away antics and actively want him to do the business for Palace.
But the majority of that support and goodwill surely must have eroded away after Wayne threw his shirt down in front of the Holmesdale.