April 16 2005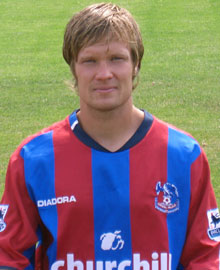 Crystal Palace dropped two points in their battle against relegation, but fought back from 3-1 down to save a point, writes Simon Pophale.
This game was marked down as a must win. This was going to be the mother of all 6 pointers. Dowie knew it, Worthington knew it and I don't think that there was a single person inside Selhurst Park who didn't know it.
Dowie made changes to the side which lost at Everton. Leigertwood moved into central midfied to replace Aki Rhihilaati, Butterfield and Sorondo returned to bolster the defence. Yet with all the changes, we still shipped 3 goals to the only team below us in the league.
It was all going so well. 6 minutes in and Freedman was bundled over by Thomas Helveg (How DID he ever play for AC Milan!) and Micheal Hughes floated over the free kick and Joonas Kolkka smashed home totally umarked from what was in essence, our first real chance of the game.
But from then on, it was an uphill battle. Rob Styles had replaced Mike Riley as the referee for the game and he preceded to make poor decision after poor decision and it became 12 against 11, rather than an even contest.
But had Robert Green not denied Freedman with a one handed save 5 minutes later, we could have been out of sight. Instead, we allowed Norwich to come back into the match and with a quarter of the game gone, they were level. Darren Huckerby played in Damien Francis and his cross was met by Dean Ashton who levelled the scores from close range. He couldn't miss.
Norwich came with a reputation for playing good football, but this was not on show today. Worthington had wanted a football war, and his players were giving it. Jason Shackell had made a few bad challenges on Andy Johnson already when AJ again was unceremoniously brought to the ground 5 minutes later, however Styles waved play on.
If that wasn't enough, he missed a clear handball when Youseff Safri handled Freedmans header from a corner. In fact, I can remember about 3 decisions going our way the whole half. Corners that weren't corners, throws given to the away side when it was clear that it was them that caused the infringement. But the worst was still to come. Right before half-time, AJ broke clear and rounded Green before the Norwich keeper brought him down. The ball went out for a corner, Styles did nothing. It was daylight Rob-bery.
Even Iain Dowie couldn't believe it. Usually a man reserved, his remonstrations with Green as the sides walked off at half time showed the displeasure and injustice that he felt that had been dished out. Styles refusal to book Huckerby for booting the ball away also incurred the wrath of the Selhurst faithful. But it was honours even at half time.
However any hope that we harboured of us coming out all guns blazing was silenced seconds after the restart. Fitz Hall misdirected a header from the kick off and Dean Ashton had the ball in the net 6 seconds later. It was the kind of goal which knocked all the stuffing out of us.
However that was done 7 minutes later when Darren Huckerby crossed from the left and Leon McKenzie beat Kiraly from close range. It couldn't get any worse. 3-1 down AT HOME to NORWICH. The game which we had to win, was slipping away fast. Despite the best efforts of Wayne Routledge, we just couldn't seem to get the ball in the net. On the hour he danced down the right and sent over a whipped cross that Freedman missed by inches.
Despite the free kicks and corners, time was ticking down and the inspiration was not forthcoming. Dowie sent on TOM SOARES and Sandor Torghelle to try to turn the tide and moments after Torghelle came on, we got back into the match.
A well worked move saw AJ spread the play wide to the left and Routledges cross was met firmly by a flying Micheal Hughes and the ball was in the corner, while we were believing again. Norwichs legions of fans, who were chanting "easy,easy" and Robert Green, who stuck 3 fingers up at the Holmesdale, to indicate how many goals they had were suddenly silent. It was back on!!
Fate was going to deal one last turn. Jason Shackell who had endured a torrid afternoon by AJ brought our man down in the box. AJ was not going towards the goal and to be fair, had gone down rather easily. Styles, in a move totally out of character from the previous 80 minutes,pointed to the spot. Disbelief in the away end, jubliation everywhere else.
However it was not so straight forward. AJ had not scored for some time and Norwich had been on a good run. AJ despatched the goal which showed that despite not hitting the target for a while, his confidence had not been dented.
With the assistant referee indicating 4 minutes of injury time, hopes were pressed for a winning goal. AJ had begun to find space in the middle of the park, indeed his pass to Sandor Torghelle was met with a great return ball which was hacked away for a corner. Routledge swung the ball over and when Fitz Hall sent the ball goalward with an overhead kick, we all held our breath but sadly for us, the ball was saved by Green.
Had that gone in, it would have been the biggest comeback for us this season, and would out-do Norwichs' 3 goal salvo against Boro earlier in the season. It would have been decisive too, Styles blew the whistle virtually immediately afterwards.
Can we take positives from the game? The return of Kolkka and Sorondo was welcome although it has to be said, Butterfield did look short of fitness as the match went on, so his substitution came as no surprise. AJ gets his 19th of the season which ends a long drought for him and if that heralds the beginning of a scoring run, then this may not be the last point that we pick up this season.
But we will have to play a lot better against Blackburn on Wednesday if we are going to get anything from that game. To concede 3 goals to what is the worst team in the Premiership (as the standings don't lie) is something that we will have to improve on.
But it is over? Not by a long shot.....
Man of the Match : Micheal Hughes - carried the midfield again today and lead by example.