April 18 2005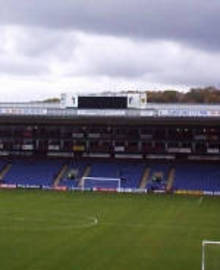 Whoever said 'Life as a Palace fan certainly isn't dull' - I think it was Oscar Wilde - was clearly a master of understatement, writes Matt Amer.
For the second year running our hearts will probably be beating faster than a drummer on Red Bull right until the final whistle of the final match of the season.
With only four points separating the bottom four teams after this weekend's action, the Premiership finale is set to be tighter than Uncle Ron's moth-eaten purse strings.
Of course, things could have been so different. Saturday's match was our home banker against bottom of the league Norwich; a team who ship more goals away from home than China ships tea.
With our back three of One Size, Gonzo and King Gabor, a more competent defence than George Bush's personal bodyguards, reunited, there was no way we couldn't win… until Rob Styles turned up to referee.
I like referees. They provide an invaluable service. Not only do they make the perfect target for abuse if we are fond of the opposition, but they bring order to the pitch when order needs to be brought. They penalise players who cheat, for we all know cheaters never prosper… which is why it is clear that Rob Styles is not a referee.
Freedman, tripped in the area; no penalty. Safri, handballs on the line; no penalty. Johnson, bundled over in the area; no penalty. Huckerby, trips over his own legs; free kick. I can only wonder whether the particularly large cake Styles is reported to have received on Saturday morning may have blurred his judgement.
The Palace curse – that of ex-players returning to score against us – is also getting worse. Not only are ex-players doing it, but also players we've failed to sign. Last week Cahill did it, this week it was Dean Ashton's turn.
It is the bitterest of ironies that with a little more luck/savvy, they could have been scoring goals for us. From now on Mr Dowie should think very carefully before embarking in any transfer negotiations: make sure we sign them, or ensure that are so bad that scoring against us isn't a problem. Maybe something like that went wrong with Wayne Andrews.
Before this weekend, Norwich was a must win match. At half time, because of results elsewhere, it was a must win by a large margin match.
Every time Peter Crouch and Kevin Phillips play together in a Southampton shirt, one of them scores. In the first half against Villa, both of them achieved this unexpected feat; Crouch with his feet! Luckily for Palace, whenever 11 players play together in Southampton shirts they look a liability in defence.
Harry's 'rejuvenated' Saints imploded once again in the second half at St Mary's, as Villa fired three goals past them in just 17 second-half minutes.
Possibly more important than the fact that we are now level on points with the Saints is the effect this weekend's results could have on morale. Palace, following Michael Hughes's example, dug in, showed character and clawed a draw from the jaws of a possibly season-ending defeat. Southampton lost at home having had a 2-0 lead. I know which dressing room I'd rather be in for the next game.
At the European end of the table, Spurs and Liverpool traded spectacular goals as Edman put the Londoners in front with a 40 yard effort into the top right hand corner of Dudek's goal, before Garcia pirouetted on the edge of the Spurs area, curling his shot into the top left hand corner of Robinson's goal.
Most surprising, though, was Sami Hyppia's crisply struck volley from the edge of the area, which also found its way into the back of the net. The answer to the 'Pool's striking problem may have been found in Sami's top quality Finnish finish.
The real talking point of the match was Djibril Cisse's return from the vomit-inducing double leg break of earlier in the season. It seems he got confused about the date, though, dying his hair red for Comic Relief nearly a month after the festivities finished. Maybe he did it to mark the start of the World Snooker Championship – can't think of any other reason.
There were other games this weekend, but frankly, nothing remotely interesting happened in them. Stuart Pearce managed another City draw without attacking someone on the sidelines, Bolton continued their strides towards European glory beating the traditional end-of-seasonally lacklustre Charlton, and Man Utd and Arsenal managed to surprise everyone by making it to the FA Cup final; didn't see that coming.
---
Email Matt with any of your comments to matthewamer@yahoo.co.uk