April 20 2005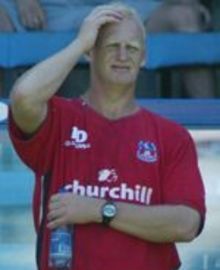 Crystal Palace failed to collect vital points in the battle to beat the drop tonight at Ewood Park, writes Simon Pophale.
But with the benevolent Mr Jordan giving free travel for this game, to ensure a decent turnout, it was an optimistic hardy bunch of fans that made the long trip to not so Sunny Lancashire....
After a 6 hour coach journey, arriving to a gloomy overcast bleak Norther town, you would think that the weather was representing the mood of us travelling band of supporters. However nothing could be further from the truth. We were all upbeat, as this was a game that we all believed was emminantly winnable. This was my first time to Ewood Park and it was quite clear, that investment has been pumped into the club. The CIS Stand to our right was a reminder of what Ewood used to be like, before the Jack Walker Investment days. However on the field, the difference was quite clear between the 2 sides.
The first 30 minutes was shaded by Blackburn. Not in possession but in the amount of chances created. Both teams had similar amount of corners and free kicks. However the main difference is what one team did with the set pieces. After only 5 minutes following a corner - Jon Stead (with the one solitary goal this season) sent a perfect downward header which Gabor Kiraly saved brilliantly to his left. It set the tone for the game as every time Blackburn had a set piece, they looked a threat.
After 29 minutes (there was not much happening in between) we had our first real warning of what Rovers could do with a free kick. Savage floating one over from the right, saw the entire Palace defence move up to leave Ryan Nelsen totally on side but his shot from 6 yards cannoned off the bar from a similar range to where Joonas Kolkka scored last Saturday against Norwich.
As ever, we don't learn our lessons and despite valiant attempts by Johnson, Routledge and co, by the time half time was approaching, we had mustered 4 or 5 corners, but Brad Friedel had nothing much to do other than routine catches from corners. Then we were hit with the sucker punch.
Precisely the same outlet which led to Blackburn hitting the bar, Savage in 1st half injury time floated over another cross which the in form Morten Gamst Pedersen touched over Kiraly onto the bar and in. 10 seconds left in the half and we were floored. 1-0 and we all know that once we go behind, we don't ever win the match.
The reason why we don't has never been more clear which the 2nd half display clearly illustrated. From the off, Brett Emerton began to terrorise Gary Borrowdale on the left with mesmerising runs and crosses which had Kiraly making saves all over the shop and literally offering us no chance of respite. Indeed, we have been sloppy from the restart in several games recently, Everton and Norwich spring to mind when one time targets Cahill and Ashton punished us.
Indeed, our only real shot on goal came from AJ (who else?) on 51 minutes when his good run and cut in on the left was well saved by Friedel. It was a half chance really, nothing more (despite the fact that AJ has scored from such distances this season) but with another AJ inspired break which saw him one-on-one with Friedel about 10 minutes later, which the American blocker from an acute angle, there were no further chances coming our way.
Dowie decided to bring SOARES on for Kolkka at half time (a decision which mystified a few fans) but it made no difference. We were getting overrun.
Blackburn was dominating the first 25 minutes of the half possession-wise. We offered lots of endeavour but the truth was that for every tackle that won the ball from Hughes and Leigertwood was poorly distributed. One of the consequences was that for a lot of the time, Hughes and Leigertwood made good strong runs but when the ball was given away, were caught out of position and there was no shape.
Blackburn exploited this to the maximum and Emerton, Reid and Pedersen were all getting time on the ball and distributing well. As for that other midfield nightmare, that is the vain Robbie "don't touch my hair" Savage he was subbed on 48 minutes after being booked and being 2nd best to Hughes.
However when a player of the quality of Tuguy comes on, who can pass the ball around with due aplomb, it is going to make life more difficult.
Which is exactly what happened. The result could have gone pear-shaped a la Everton had Steven Reid not put his free header wide from 6 yards out and Jon Stead not fired into the side netting when it looked almost easier to score. 1-0 was flattering in as much as our goal difference is now still better than Norwich's, but as we only had 2 efforts all night long, it was evident that we were lacking a cutting edge up front.
The Introduction of Sandor Torghelle brought cheers and hope from the Palace faithful (who once again could not be faulted for commitment, desire and end product) but even his efforts failed to produce anything meaningful. Dowies' last idea of going to a 3-5-2 formation, swapping Butterfield for Popovic had little effect other than putting ourselves under even more pressure when Blackburn broke away after breaking up another of our attacks.
Truth is that in reality, we were only getting just past the centre circle before poor distribution gave the ball to Rovers, or they broke the attack down with relative ease.
Not even 5 minutes (when it was supposed to be 3) proved fruitful. We could have been there all night and I don't think that by the time the last coach was pulling into Selhurst Park (around 3.45 by all accounts, if the one I saw in West Norwood was the last one heading towards Selhurst at 3.35), we would have scored. A sad but true fact.
Which is the reason why it is all going wrong. Mark AJ, Palace don't score. Blackburn never allowed AJ to run on goal as this is his main asset. Set pieces, we have been poor all season and this was where we did not capitalise again. It was not as if Wayne Routledge was playing poorly either.
He has been bang on form the last 4 weeks but all his corners went to Friedel or were cleared. I can remember a time when a team that was dangerous from set pieces and had a mean defence played in red and blue and finished 3rd in 1991.
Quite simply, Blackburn of 2005 are Palace of 1989 - 92. Also, crucially, the board backed the manager with funds. The January transfer window saw the arrival of 3 International players at Ewood Park : Robbie Savage, Aaron Mokoena and Ryan Nelsen. While Savage is well known as being a midfield enforcer and a tough tackler, Mokoena is a defensive midfielder (as the programme noted, the 2nd best in the Premiership behind Makelele) and has been an International for years.In fact, he is the youngest player to represent his country at 17.
Central defender Ryan Nelsen is the New Zealand Captain and despite him being relatively unknown, has played very well since his arrival. Rovers spent £3.3 million on these players and since then, they have shored up, conceding something like 2 goals in 10 games, while moving from 16th and in trouble at the botTOM to now, 13th place and safety. We bought no-one and in reality, were linked with no one who was going to do the same for us.
It's Liverpool next and despite the results last night, we are only still 2 points from 17th place. The chances of survival are slipping past every week though and with only 4 games left, our chances are now out of our own hands, even if we start winning and our survival hangs by a thread, which every week gets thinner and thinner.
If it all goes wrong on Saturday and the results don't go our way, we wont be drinking in the Last Chance Saloon come Newcastle, it will be almost Dead Loss Tavern time.
All I hope that Mr Senor Benitez will be resting Gerrard,Hyppia, Garcia et al on Saturday with the Champions League Semi-Final coming straight after our game. Please Mr Benitez, please...
Palace Ratings (out of 10)
Gabor Kiraly : 8. Palace Man of the Match : If it wasn't for him, it could have been a lot more. Performs consistently every game.
Danny Butterfield : 5 : Oh dear. Danny is clearly not fit yet and has been rushed back. Distribution let him down and his forays down the right were few and far between. Booked
Gary Borrowdale : 4 Will have nightmares about Brett Emerton for weeks. Looked off the pace.
Gonzalo Sorondo : 7 : Our best defender by a country mile. Shame he belongs to Inter. Booked.
Fitz Hall : 7 : As a defender, he is class. Not much gets past him but gets caught when steps into midfield and his distribution was poor.
Wayne Routledge : 7 : Ran his heart out and put some good crosses in, shame no one was there to get on the end of them.
Joonas Kolkka : 6 : Subbed at half time, (reason unknown) looked dangerous when he got the ball. Which was not often enough.
Micheal Hughes : 7 : Won the battle with Savage but despite all his heroic tackling, left spaces in midfield which Blackburn exploited. Booked
Mikele Leigertwood : 6: As above, but distribution was very poor.
Dougie Freedman : 6: Trademark match for the Doog. Ran his socks off and put himself about, with no goals.
Andy Johnson : 7 : Cut above the rest. Our best outfield player and head and shoulders above everyone. However now the rest of the Premiership knows this and marks him with 2 players. Hence had few opportunities to shine. Yet shine he did.
Sandor Torghelle (for Freedman) : 6 : Lots of endeavour but had no service
TOM SOARES (for Kolkka) : 6: Did not cause enough threats to Blackburn to worry them
Tony Popovic (for Butterfield) : 5: Only a short time and had no time to make an impact. Last throw of the dice.