April 23 2005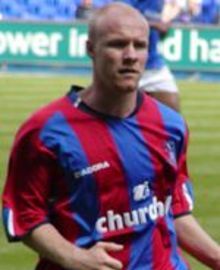 A first half Andy Johnson goal secured the three points for Iain Dowie's men, writes Simon Pophale.
Tony Popovic's smile must have been reaching Australia by the time the whistle blew at full time. His own personal nightmare which he endured at Anfield 5 months ago had now been exorcised when Milan Baros gave him a torrid time and scored a hat-trick, including a last minute penalty which Poppa conceded. He above all, had a point to prove.
After Blackburn and Norwich, we would have been forgiven for thinking that this was going to be a long afternoon. We could not have been further from the truth. Liverpool clearly had their minds on the Champions League semi-final with Chelsea. Rafeal Benitez dropped Luis Garcia and Xavi Alonso, as well as putting Jon Arne Riise on the bench.
Still, it was not going to be an easy prospect with Steven Gerrard and Fernando Morientes still in the side. Dowie brought back Granville, Aki and SOARES, in place of Butterfield, Kolkka,Freedman and Borrowdale.
After only 10 minutes it was nearly Poppa who broke the deadlock, as Wayne Routledge sent a free kick over from the right and Poppas' header was punched over by Dudek. In fact, in the first 15 minutes we had a number of opportunities all involving Routledge on the right. His crossing was high quality, but Dudek was looking to be in form.
But we weren't going to get our own way all afternoon. Had Fitz Hall not been alert to snuff out Milan Baros a few minutes later, then it could all have been different.Baros was, in contrast to November, having a poor afternoon.
After heavy but fair tackles from Sorondo and Granville, Baros was limping heavily and it was no surprise when he limped off and was subsituted. However what occurred moments before that, was nothing short of miraculous.
Another Wayne Routledge corner was palmed away by Dudek only to see the ball come back across the box back to Wayne, whose 1st time shot was deflected deftly by an AJ header and the ball beat Dudek to his right.
1-0 and we all started believing that we could beat the Champions league Semi-Finalists. Indeed, as we left the field for half time, Liverpool looked like a shadow of the team that played in Turin not so long ago.
This season we have been notoriously slow when the 2nd half starts. But today we were stronger, faster and smarter and this nearly led to our 2nd goal of the afternoon.
AJ got space on the left and his cross was missed by the usually dependable Sami Hyppia and the ball was allowed to come across the 6 yard box to TOM SOARES who more in shock stabbed the ball wide to the waiting Pelligrino, rather than in the back of the net. 2 minutes later, Danny Granville forced another save out of Dudek and then TOM SOARES crossed for Micheal Hughes, whose volley dipped just wide. Unbelievably we were on top, Liverpool were floundering and 3 points were in sight.
Benitez clearly could see that, and sent on Riise and Cisse in order to pep up their play. It had the desired effect as from the surging runs of Micheal Hughes, Leigertwood and Routledge, we gradually got pegged back as Morientes (quiet in front of goal but still always a threat), Cisse and Gerrard started to stamp their authority on the game.
Liverpool were dominating possession and indeed in the last 20 minutes, the defence took on alamo like resilience as Liverpool searched in vain for an equaliser. However other than a Steven Gerrard shot which was brilliantly saved by Kiraly, Liverpool did not threaten our goal as much as they would have wanted.
None the less, the last 5 minutes took on a grandstand finale, with Liverpool encamped in our area, but Sorondo,Hall et al not succumbing to any of the pressure. Popovic was back to his best, getting head,foot and chest in the way of every ball. There was a calmness among them that had not been seen in recent months so when the final whistle came, the crescendo of noise that greeted it was a mixture of relief, joy and hope as we push on for survival.
Results that day means that we are out of the relegation zone. Even if it only until Tuesday night, this will be a game that will go down as yet another victory for us over those scallies from Stanley Park.
It also avenges our defeat from November. But for Poppa, revenge will have been for him, the most sweetest of all.
Palace Ratings :
Gabor Kiraly : 7 : Did not have too much to do but when required, performed manfully.
Gonzalo Sorondo : 7 : Never let anyone down with his calmness and effectiveness on the right.
Danny Granville : 7 : Was missed last week against Blackburn and showed why with a no fuss performance.
Fitz Hall : 6.5 : Vastly improved since Wednesday - but still has issues with distribution. Improving.
Tony Popovic : 8 : Back to his best and would have loved every minute of playing against Morientes. Only allowed one header for the Spaniard all afternoon and could have scored one of his own
TOM SOARES : 6 : What it would have done for his confidence if he had scored in the 46th minute, would have set him up nicely for the last few games.
Micheal Hughes 9 : MAN OF THE MATCH : Driving force for so many attacks and caused constant problems for Liverpool all afternoon as he did in November, but this time got the right result. Lead by example.
Aki Riihilahti : 7: Another solid performance by Aki, who looks to be over his injury problems that had seen him leave the field so often towards the end of games.
Wayne Routledge : 8 : Brilliant performance from Wayne again. More end product being seen now and his crossing has improved in spades.
Andy Johnson : 8 : Another goal, this time not from the penalty spot. Directed his header perfectly into the corner which is the sign of a class player.