March 31 2003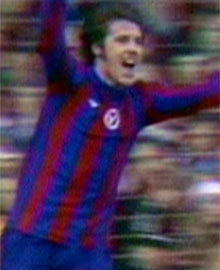 Crystal Palace's victory over Burnley clinched the Second Division title in front of a record-breaking crowd at Selhurst Park, writes Peter Guntrip.
The campaign started well with early results going Palace's way - a win against fancied promotion hopefuls Luton and a 3-0 win at Milwall put Palace top of the table.
In October 1978, the Eagles used the proceeds of a cup tie with Aston Villa to buy back Steve Kember from Leicester City. Palace profited from his experience and in December were two points clear of Stoke at the top of league table.
In the last third of the season, a vital run of victories over teams such as Sunderland and Notts County left Palace very close to clinching promotion.
Due to a fixture postponement in the winter months, Palace's match against Burnley at home was rearranged after the last Saturday of the season. On that Saturday all four promotion contenders (Brighton, Stoke, Sunderland and Palace) won away.
Brighton's result left them top of the table and it meant only Palace could stop them becoming champions.
The Burnley game was crucial - Palace needed a single point to gain promotion. Three points would mean Palace would overtake Brighton and finish champions. No points and Palace would remain in the Second Division.
So on May 11, 1979, Palace took to the field at Selhurst Park knowing exactly what was expected of them. It was a record attendance as 51,482 crammed themselves onto the terraces, with thousands of fans locked outside.
Burnley resisted a great deal of Palace pressure throughout the match, but with just 14 minutes left on the clock, the breakthrough for Palace came.
Vince Hillaire scampered down the right wing and floated in a great cross for young Ian Walsh to head home. Selhurst Park exploded into jubilant scenes.
A few minutes before the end, Dave Swindlehurst made the game and championship safe with a right-footed drive.
Palace had made it and had clinched the title in front of the noses of their arch rivals Brighton.
Palace: Burridge, Hinshelwood, Sansom, Kember, Cannon, Gilbert, Nicholas, Murphy, Swindlehurst, Walsh, Hilaire.
Burnley: Stevenson, Scott, Brennan, Noble, Thomson, Rodway, Hall, Inram, Morley, Kindon, James.
Attendance: 51,482.