May 31 2005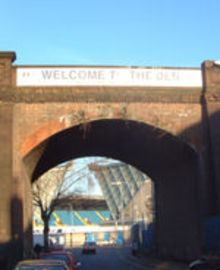 Darren Ward joins the list of Millwall stars who have deserted the Lions to sign for arch rivals Crystal Palace. Millwall fan Steve Griffiths tells us a bit about the "Peckham Beckham"...
The first thing you'll notice about Darren Ward is his hair.
He has a barnet that makes Stig of the dump look fashionable. The nicknames Ward picked up during his four years at The Den - Shirley (to the players) and the Peckham Beckham (to the fans) Ė should tell you all you need to know about him.
He takes his appearance very seriously; which makes it all the more amusing that he looks such a tramp.
But the ridiculous image isn't the only reason why Millwall fans aren't that bothered about Wardís defection across south London.
Obviously heíll still get plenty of grief when we meet next season but that comes with the territory when a player moves to a local rival.
Given the choice we'd rather have sold him to any of other 90 league clubs. But Palace are in much stronger financial position than us at present as a result of your inevitably brief stay in the Premiership.
Dowie and Jordan have taken advantage of that to tempt Ward with wads of extra cash. But there's nothing new there.
Chris Armstrong and Andy Roberts sold their souls to the dark side in the 1990s and both moves were more aggravating than this one.
They were quality players with the potential to play in the top-flight (even if neither quite lived up to that billing in the end), whereas Ward is, at best, a good Championship defender.
He will probably do a decent job at Selhurst next season but heís not going to be much use if you go up.
A lack of pace that makes Danny Dichio look like Linford Christie is a major weakness, as is his uncanny ability to lose concentration at the most inappropriate moments.
And, of course, Wardís switch is nothing compared to the meltdown that Tim Cahill would have caused if his proposed transfer to Palace had gone through last year.
The possibility of a player everyone knew would make an impact in the Premiership, who was one of our own, and who had scored the most famous goal in the clubís history (thatís the FA Cup semi-final winner to you), pulling on a Palace shirt didnít bear thinking about.
So itís a minor victory for Palace in our never-ending feud, but nothing to cause too many sleepless nights.
And Iím already looking forward to Barry Hayles running him ragged and sticking one in the Holmesdale net. Some things never change.
---
In Depth The Millwall Rivalry