January 5 2001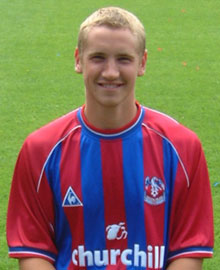 Alan Smith will have a very young squad at his disposal against Sunderland in the FA Cup on Saturday afternoon.
Smith will have to do without suspended players Tommy Black, Fan Zhiyi, Jamie Smith and Neil Ruddock. Jamie Pollock has not been called back to the squad after being dropped for last week's clash with QPR.
Smith is likely to call youngsters Sean Hankin, Steve Evans and Andrew Frampton into the squad.
Dean Austin returns from an injury and is likely to play in central defence.
Possible Palace line-up: Kolinko, Frampton, Carlisle, Austin, Mullins, Harrison, Rubins, Morrison, Forssell, Thomson, Rodger.
Also today, Crystal Palace are linked a move for Kilmarnock midfielder Gary Holt.
Eagles coach Ray Houghton went to Scotland on Tuesday where he saw Holt lose 6-0 against Celtic.
Holt is available at £400,000 but if Palace wait until summer he will be available on a free transfer.