August 12 2005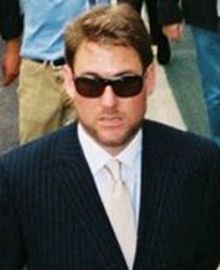 JOHN FASHANU has urged Simon Jordan to keep his mouth shut if Palace are to have a successful season.
Jordan claimed Palace will win the Championship, but FASHANU believes the Palace chief is putting too much pressure on manager Iain Dowie and the players.
FASHANU, who played two games for Palace while on loan from Norwich in 1983, said Jordan should keep his gob shut.
"Simon Jordan puts pressure on Palace every time he opens his mouth," FASHANU told Norwich's Pink 'Un.
"He's not a football person - he made his money in mobile phones. He should shut up and be quiet and perhaps the team would do better. It all adds pressure."
FASHANU reckons Palace will have the upper hand when they visit Norwich tomorrow.
He said: "I think that Palace will come out on top on Saturday. They will be really fired up for this one. Jordan will be in the dressing room and he'll make it a real do-or-die scenario."
*TOM Soares has been named in the England under-21 squad for the first time.