September 29 2005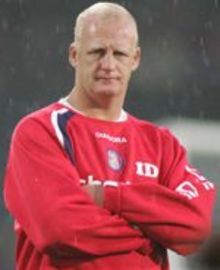 Iain Dowie singled out Marco Reich for special praise after the German's impressive display against Sheffield Wednesday.
Reich is on a short-term contract at Selhurst Park after bring released by Derby in the summer.
He produced an exciting display in his first Championship start as Palace saw off Wednesday thanks to a Clinton Morrison strike and a Glenn Whelan own goal.
Dowie said: "We've lacked a wide man for some time and he's solved that conundrum nicely for us.
"I knew he was a good player and he's showing that. He has the ability to play the ball at the right time."
Dowie was also delighted with the display of young midfielder TOM SOARES and said: "I thought TOM was the best player on the park.
"When I came here he wasn't even getting a game for the reserves and now he's an England Under-21 international, that's some transformation.
"I think he will go on to be a top-class central midfielder."
Dowie admitted Palace have struggled often struggled at home this season but doesn't believe the fans' expectations have affected the team.
He said: "The expectation levels are high, especially when we play at home. We've been quite slick away from home this season and we need to keep the crowd on their toes at home.
"The chairman has invested money here and of course he wants results.
"But when the time comes for me to leave this club I hope I'll leave a club that's doing well. I got sacked early on at QPR so I hope I've got that out the way now."