October 1 2005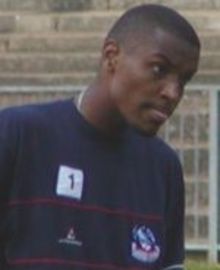 We made hard work of the botTOM of the table team, as Sheffield Wednesday came to town, looking to get off the botTOM of the table, writes Simon Pophale.
They did not play like a team at the botTOM, but nonetheless that did not stop a team that plied its trade in the Premiership last season make heavy going of the League One Play-off winners.
If it wasn't for Clinton, we would be in dire straits now. His goal netted us a point against Preston and he was at it again after 18 minutes of this clash. In what was the best move of the first half, TOM SOARES passed to Morrison whose cross found the head of Dougie Freedman.
The Scot headed it back across the box where Morrison was there to head home from 2 yards. A great move but sadly, that was as good as it got in the first half for us.
Chris Eagles was showing why he is so highly rated at Manchester United, as he gave us a torrid first 45 minutes.
His endless stream of crosses for Lee Peacock led to the former Manchester City striker having 2 chances on goal, a few off-sides and if that wasn't enough, Eagles managed to make Kiraly pull off a couple of saves as well.
This was not the first half performance we had all been hoping for. Watson had given the ball away to the opposition more times that he found someone in a red and blue shirt, while Kiraly too was having an under-par half, as his goal-kicks were skewing wide generally, the back four did not look as solid as it had done in the earlier weeks of the season.
Was it because we had a right back at left back? Is Kiraly going through a bad patch? Fact remained that without Micheal Hughes and Aki in the midfield, we looked lightweight as SOARES, Watson, Reich and McAnuff could not stem the Wednesday flow.
In the 2nd half, Eagles carried on from where he left off, forcing another save from Kiraly in the opening exchanges.
But he and Wednesday were beginning to fade and on 57 minutes, Emmerson Boyce got on the end of a McAnuff cross which was diverted past David Lucas by Glenn Whelan to double our advantage. It was fortunate, but on the balance of play, it had been coming.
The more the half progressed, the less likely it was that Wednesday were going to score. Sturrock threw on more strikers in the hope of them netting one back, but it was not to be. Had McAnuff not spurned a chance towards the end, but he could only volley over from 8 yards or so.
So with 3 points in the bag, Dowie brought on Wayne Andrews and Gary Borrowdale to give them some time (5 minutes) and at least Wayne did give us something to giggle about, as a run which never gor started ended up with him accelerating down the right hand side, leaving the ball behind him!
This summed up possibly the match in this one moment, lots of effort but in the end, no real quality to punish a side that we realistically should be beating comfortably.
The tell–tale signs are that when you would rather play 2 right backs than the left back that has been playing for virtually the whole season so far and the extent of the cover for the stikers is Wayne Andrews, quality is always going to be in short supply.
We will need to be a lot better against QPR, if we are going to register our first away win of the season. Still, I'll take playing average and winning, as I suspect most of the 17,000 crowd did as we filed out of Selhurst.