October 23 2005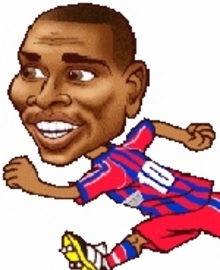 It couldn't get any worse after Tuesday night., however Palace once again found a way to make it possible with the great pre-match entertainment that was "un,dos,tres", writes Simon Pophale.
Quite frankly, I have not seen such an inept display since, well, Tuesday night. I am not sure who is responsible for booking them, but they should not be allowed to again. We shouldn't do pre-match entertainment, remember Elvis and Britney impersonators? Embarrassing.
Which is where thankfully, the embarrassment ended on the pitch and the eleven men who took the field against Burnley had a point to prove. Marco Reich had our first real chance, shooting over from around 12 yards. Our next chance was when Frank Sinclair nearly headed past his own keeper, but Brian Jensen managed to scramble back. But, even with Clinton Morrison being his usual lively self, it was a sluggish start to the match.
Burnley did have lots of possession as the half went on, but did very little with it. Gabor Kiraly had not much to do and indeed only was called into his first save on 28 minutes, catching a Gareth O'Connor effort. O'Connor has 2 more chances, before Kiraly pulled off the save on the half with 35 minutes gone.
A Burnley free kick taken by O'Connor was arcing just inside the right hand post when Kiraly stuck out a hand to keep it out. It was a timely reminder that Burnley were going to be no pushovers.
Jon Macken, who has worked hard all afternoon so far, looked to have pulled a hamstring and was replaced by Dougie Freedman and one minute later, we were ahead. Marco Reich flew down the left wing and sent a cross over which Freedman headed back across goal and Morrison met it full on to open the scoring. Freedman nearly got on the scoresheet himself had he managed to find the finish after an exhilarating 40 yard run, but he was upended outside the area, not even getting a free kick.
The 2nd half started with McAnuff being replaced by Wayne Andrews and almost immediately from the restart he won a corner which we were unable to take advantage from. 10 minutes later, from a Ben Watson corner, Freedman headed inches over and it would look like that elusive 1st goal of the season was not going to come for him.
Burnley had no cutting edge and despite players like Hyde, O'Connor and Spicer seeing plenty of the ball, there was nothing in the final 3rd, with Akinbiyi well shackled all afternoon and Noel-Williams , who replaced Spicer with a quarter of the match left, seeing very little of the ball.
Which was totally the opposite of what we have, even with AJ and Macken out, we can still call on Morrison and Freedman, as well as Wayne Andrews and it was this trio of forwards which concocted the 2nd goal on 78 minutes.
Andrews' shot was well saved by Jensen but his parry sent the ball spinning towards the touchline, where Clinton Morrison was first and his delicate hooked cross found Dougie Freedman who headed in from 5 yards. Goal number 96 for Doogie and never has a player deserved to get on the scoresheet more.
The match then degenerated into a midfield battle which saw referee book TOM SOARES and Micheal Hughes for "unsportsmanlike behaviour". Clearly, he did not have enough to do in the match and his booking of Hughes for timewasting was not only petty, but unwarranted. Had he clamped down on some of the more overzealous tackles from those sporting claret and blue, it would not have been so bad. Still, at the final whistle the 3 points were all that mattered and the memories of Tuesday night can long be forgotten.