January 12 2001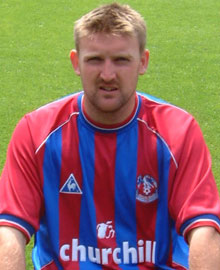 A London newspaper reports that Palace midfielder JAMIE POLLOCK made his peace with manager Alan Smith. POLLOCK was dropped from the squad by a furious Smith two weeks ago after he critisised the team's management and coaching methods.
POLLOCK said today that he is ready to fight for a first team place now that the air between him and manager Smith has been cleared.
The 26-year-old midfielder, who joined Palace from Manchester City for £750,000 this summer, was dropped from the squad after critisising Alan Smith's methods. He missed two important games against QPR (1-1) and Sunderland in the FA Cup (0-0).
This week POLLOCK appologised and was selected as a substitute for the Worthington Cup semi-final first-leg against Liverpool on Wednesday night, which Palace won 2-1.
POLLOCK said: "I have settled my differences with the manager, definitely. We have had words but I can honestly say there are no grudges. It was about several different things and there were a number of players voicing a few concerns.
"But I was speaking more prominently than others and that is why we had the conversation we had.
"We are moving on from there now and have put everything behind us. The manager can fall out with people because he is very passionate about the game and the club.
"But one thing you can say about him is that he is prepared to make up and put things behind him. I just want to get myself back playing and enjoying myself again now.
"I enjoyed being part of a cup atmosphere on Wednesday and the fans were tremendous.
"We are starting to think, 'Premiership teams, so what?' If you look at our results this season, the best ones have been against Premier opposition.
"It shows that when we get out of the First Division, we can play against the best of them."
The Eagles are doing well in the Cup competitions but in the League they are struggling again after picking up only two points from the last four games. Palace are facing a tough trip to Nottingham on Sunday.
POLLOCK added: "The hard task ahead is to get out of the First Division. Forest is a massive game.
"It is always difficult to get yourself up again for games after a massive cup match, but it is important we do. "