October 26 2005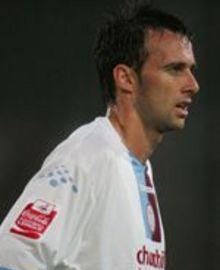 Another match against Liverpool, another victory. However it was not the result that was just pleasing, it was the manner of it. Liverpool are no longer the force that they once were, writes Simon Pophale.
European Champions they may be but in the cut and thrust of domestic football, so far this season they are nothing but also-rans.
Which is surprising as Benitez picked a side which most would consider fairly strong. With a few unfamiliar names at the back, the team resembled much of the side which came to Selhurst back in April.
Iain Dowie himself picked a team which was under-strength due to injuries and also he gave Julian Speroni another chance to impress in goal.
And impress he did. Time and again Liverpool attacked us throughout the 1st half and found the Argentine to be in top form.
First, he kept out a Steven Gerrard effort on 11 minutes, then thwarted Fernando Morientes 5 minutes later by stopping the ball with his legs from close range and on 21 minutes stopped yet another Gerrard drive by tipping the ball around the post. Had Darren Potter not missed 2 sitters in the first half, the story could have been very different.
Had Phil Dowd actually played an advantage on 27 minutes, we would have been one up. Freedman spread the ball to Morrison despite a heavy challenge on him from Zak Whitbread and with Morrison squaring it to TOM SOARES, who was left with only Carson to beat, Dowd then decided to pull play back for the foul. Worse still was from the free-kick Freedman had a header well saved by Carson.
But we were not to be denied and on 36 minutes, we went ahead. Micheal Hughes crossed from the left and Freedman got his head on it to register goal number 97 of a career which is going to end up in the lore of Palace legend.
With the mis-firing Morientes and low on confidence Peter Crouch up front, Liverpool were relying on Steven Gerrard to drag them back into this match which is exactly what he did on 40 minutes.
Mark Hudson headed an intended Gerrard cross straight back to the England midfielder, who marauded dangerously before unleashing a shot which nestled perfectly in the corner of the net past Speroniís despairing dive. 1-1 and half-time beckoned.
The 2nd half followed a similar pattern, Liverpool attacking but with no final flourish in the last third, while we soaked up the pressure and hit them on the break.
Morientes missed a good chance on 55 minutes when Gerrard played the ball into the area but while the Spaniards shot was charged down, Potter made it a hat-trick of misses by stabbing the ball over.
Liverpool did try to change proceedings on the hour replacing Morientes with Sinama-Pongolle and Kewell with Luis Garcia. We were still attacking with purpose, if only a little sporadically but on 66 minutes, we went in front again.
From a corner, Carson punched the ball away as far as Fitz Hall who found Micheal Hughes and his cross was met by an unmarked Marco Reich and he smashed the ball home from 6 yards.
10 minutes later a copycat move found Hughes making the same pass to Reich, who somehow miss-hit the ball for it to go tamely wide.
Benitez threw on Traore as a last hope and the game petered out to a close with us passing the ball around with some authority and despite the best attempts from the referee to give Liverpool as much time as possible to get an equaliser, the 4 extra minutes passed without incident and at the final whistle, cheers rang out from the Palace faithful, as we moved into round 4.
But the night belonged to Speroni who got the man of the match award and deservedly so. His lowest moment came against the blue half of Merseyside 14 months ago but now he is the hero. Long may it continue.