October 27 2005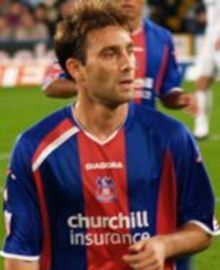 Marco Reich says he'd love to make his short-term stay at Palace permanent.
The German midfielder signed a three-month deal in September after being released by Derby at the end of last season.
Now the 27-year-old wants to extend that deal after impressing with four goals in eight matches, which included the winning goal in Palace's 2-1 win over Liverpool in the Carling Cup.
"I had been looking for a club for four months, and am now here at Palace, where we have had such an amazing run," said Reich.
"I have come into a new team, signed a three-month deal - so it was a big risk for me. It could have happened that I did not settle and was not the same player.
"But I have played eight games now, scored four goals and had some assists as well, so for me, it is just such an amazing start.
"I have already said I want to stay here. If the time is right, we will find a decision, but I really like it here. I have said that all along."
Former Kaiserslautern, Cologne and Werder Bremen star Reich, who has one German cap, reckons Palace are heading in the right direction.
"I think we are on the right way," said Reich. "We are not ready, in my opinion for the Premiership, you could see that Liverpool were a different class - but we showed, spirit wise and fighting wise, we are on the right way, and we also played some decent football as well.
"But there is still a long way to go. If you know that you have to work hard and can win, then you have so much confidence in your own ability. Winning is always a good thing."