November 6 2005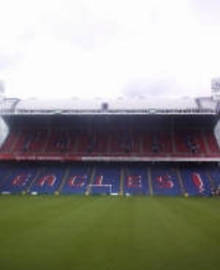 Being a Palace fan, I have always expected things to be done the hard way, by Jack Laws.
It seems our beloved club can never get things done nice and easily. Take the play-off semi finals in 2004 for example. Last minute goals, penalties, disallowed goals, the lot. Not a simple 2-0 victory in both legs and normal time.
But it seems a high majority of fans believe that this has changed since 2004. That Palace is now a super club, and should be winning every game. Some even believe that we are "the best in The Championship".
It also seems that since we have got a few good results, fans expect us to dominate The Championship and easily turn over smaller clubs in the League, with some fans giving stupid match predictions such as 5-0, 6-1, 6-2 etc.
Even I stupidly put a bet on 5-0 Palace for our away match to Crewe. But deep down I knew that there was a very high chance that Palace wouldnít get a win like this. Why? Well itís because Palace do things the hard way.
Every game that is between a top of the table team, and a bottom of the table team is going to be a hard one for both sides. For example Palace vs. Brighton. The bottom side is fighting to avoid relegation, and the top side is fighting to gain promotion.
All games like this and games against top of the table sides are going to be hard ones. That means 75% of our games will not be a simple walk in the park, but in fact a close hard fought encounter.
Once people realise this, the stupid score line predictions will stop, and the high expectancy will lower, Maybe people will even start being more realistic, and realise that yes, we maybe a top side but we are not going to take this league apart. No team will.
Things are always changing for Palace, and as stated earlier, they always seem to achieve things in the hardest way possible. Some fans need to realise this and not be so negative when we only achieve a 2-2 draw away.
Yes we have a very good chance of finishing 6th and above this season, but I think we all need to learn to be patient. We wonít get every result that we expect, but then we will also achieve things, that are unexpected.
Being a Palace fan is not only a rollercoaster ride, but itís a matter of being VERY patient. It's not simple and if Palace do achieve promotion this season, they will most likely do it in the hardest way possible.
It's hard being a Palace fan- forever a rollercoaster ride.