December 13 2005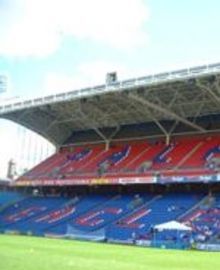 I spent a good portion of my life stumping up for season tickets and making long journeys from Camberley, Uckfield and East Grinstead in order to watch Palace, writes Farawayeagle.
Only 6 or 7 of my 34 seasons of following Palace were done from the luxury (distance-wise) of living in Croydon and Selhurst. In recent years I have followed our ups and downs from Tokyo, Alice Springs and Sydney – all providing their own barriers to keeping the flame alight.
I sometimes envy the fans who live within spitting distance of Selhurst and can just go down the pub and have a few beers with other Palace fans, whilst pontificating on how to remedy whichever god-awful mess our latest Manager has created for us – or just to luxuriate in the great victories of old, or the magical atmospheres of one of our recent triumphs.
But I have long since resigned myself to missing out on all that.
Being a long distance fan presents challenges to your loyalty, that the local fan can't even imagine.
In Tokyo, I never ever met another Palace fan. The football fans I did meet, were all interested and knowledgeable about the usual suspects -- Man Utd, Liverpool, Arsenal, Tottenham. Teams with an international profile.
When I think back over the years, I am amazed my passion for Palace never waned.
In Japan, getting results of games was a nightmare. In the early days, before the J-League started up, there was little football on TV apart from some German and Italian games -- and maybe they Cup Final, a week after it was played.
The Saturday results complete with a miniscule report from the newswires would appear in Monday's paper --and if there were midweek games, they would turn up in Friday's paper.
The internet was in its infancy – and what was available was pretty poor compared to today.
I found salvation with the BBC World Service radio. I had this little, battery powered, short wave radio which was pressed into service every Saturday night/Sunday morning for too many seasons than I care to remember.
Not wishing to disturb my wife in our tiny Tokyo apartment, every week I made the pilgrimage to the local park around midnight. Hail, rain or snow, and even in good weather I could be found engaging in all kinds of contortions to stop losing the short wave signal.
I used to top up on hot coffee and sandwiches, usually egg mayonnaise, to keep me going for the couple of hours I was there. In fact I became quite an oddity for the local police.
In the beginning they used to approach me, to find out what I was up to at 1 or 2 in the morning. As time went on, however, they would just wave as they rode past on their pushbikes. Bloody silly Irishman, they were probably thinking.
I vividly remember the night of the Cup Final with Man Utd. We were losing 2-1 and suddenly I lost the signal. No amount of twisting and turning or climbing higher would bring it back for about half an hour -- and when it eventually came back, they had equalized. I was gutted.
When I moved to Alice Springs new barriers to my continued interest in Palace appeared.
Australian newspapers had as much interest in football as they did in Siberian Huskie races. This meant that getting results was very hit and miss. They had no SBS in Alice Springs, which was about the only TV station in Australia with football information at the time. In fact we only had the ABC (Australia's version of the BBC) and one Commercial Station
My lifeline remained my trusty short wave. However the mountain ranges around Alice Springs seemed determined to make this a very frustrating exercise.
Then I had to give up listening for the results and reports, because I began presenting a midnight to dawn rock show on radio.
During these two years, I had to depend on my family sending me materials and videos to keep me up to date. But I did celebrate in style when we got promoted in the 88/89 season through the play offs.
I was up half the night and at 7a.m. the next morning I had to go out on a camel ride (don't ask). So there I was, atop this huge smelly beast, with my Palace scarf draped around the camel's neck. Happy days!
By the time I returned to Japan, the internet was beginning to take hold and the cost of connecting was becoming more reasonable. I discovered fairly quickly the Palace sites, The Crystal Palace Web Pages and CP-FRIS run by the likes of Tony Dudley, Alan Johnson, Ray Bateup and Keith Brody. Although fairly basic, compared to what is available these days, it was a godsend to those of us overseas.
At last I had a connection to the home-based fans. There was a fairly basic ability to post opinions and comments and some fairly lively debate from time to time. But nothing compared to the HOL or BBS.
One of the most isolating aspects of following Palace from so far away, over the years, was, not being able to immediately share the frustrations and the elation of tragedies and the triumphs with fellow fans.
Imagine Palace have just won an important game for promotion, to avoid relegation, or a famous cup victory -- and there is no one to turn to share the emotion. No one to argue or agree with. No one to look forward to the next game with. We've won 3-0 and all you can do is replay it in your head and then go to bed.
Such was the loneliness of the long distance Crystal Palace fan, until the relatively recent evolution of fan sites like HOL and BBS. Now I can log-on before, during and after games.
I can discuss with a myriad of people every aspect of Palace. I can reminisce with older fans about times gone by – and learn from everyone, about everything to do with Palace as we enter the noughties.
Distance is much less of a barrier these days.
As for that short wave radio – it's in a box in the garage – and I haven't had a strange look from a policeman, in years.