January 16 2001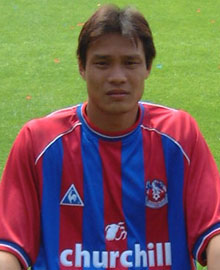 Fan Zhiyi returns to the squad after missing Sunday's 3-0 win over Nottingham Forest at the City Ground - he suffered from a dead leg but has now recovered.
Alan Smith believes the FA Cup 3rd round replay against Sunderland will be their toughest test of the season as the Black Cats will field their strongest line-up, including Niall Quinn.
Palace have already knocked them out of the Worthington Cup in December and drew 0-0 at the Stadium of Light to earn a replay.
Smith anticipates a tough task at Selhurst Park. He said: "The first time we played them they were slightly off their guard and the second time we played them we had five players out.
"So much of football is about mental preparation. Sunderland will be very much mentally prepared for this game as much as physically so I think every time we play them it will become harder and it's gone that way."
Palace's top goalscorer Clinton Morrison has put last Sunday's incident, when he reacted angrily towards the coaching staff after being substituted against Forest, behind him and is looking foward to the game against Sunderland.
"I'm happy at the moment and I'm looking forward to every game - I just love playing for Palace at the moment," the youngster said.
"I don't like being taken off but you've just got to accept that and get on with it. I don't think we've lost to a Premiership side this season so it would be another major scalp if we could beat Sunderland," he added.
"If we go out there and show the same attitude and commitment that we have, I think we'll do well."
Sunderland boss Peter Reid will have a full-strength squad to his disposal, apart from the injured Chris Makin and Julio Arca who is away on international duty.
Quinn will be playing for the first time in a Cup competition this season. The Reid said: "We will be at full strength. Danny Dichio comes back into the squad but Chris Makin and Jurgen Macho are not right. Michael Ingham comes away with us again and I'm quite comfortable with that.
"This is a smashing game for us. And Palace have done terrifically well lately and I have watched a couple of their games recently. They are riding high but we are as well.
"We lost to them in the Worthington Cup and that was a game that disappointed me more than anything. We did not perform and I certainly expect us to put on a better performance.
"We have not had the best of luck at Selhurst Park but luck does not come into it.
"I just feel there is an atmosphere within the players and that it's a game they are looking forward to."