January 17 2001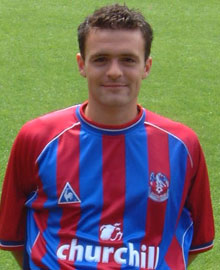 Crystal Palace crashed out of the FA Cup this evening after a 4-2 loss against Sunderland at Selhurst Park.
After a 0-0 draw at the Stadium of Light last week, Sunderland won the replay at Selhurst but needed extra-time to do so. The Eagles' goals were scored by Morrison and Thomson.
Sunderland started with Niall Quinn and Kevin Phillips up front in a bid to finally beat Crystal Palace in a Cup competition this season.
Palace and Sunderland met twice before this season. In the Worthington Cup Palace won 2-1 at home in December and last week the FA Cup 3rd round tie at the Stadium of Light ended in a 0-0 draw.
At the start of the game there were chances for Sunderland through Phillips and Quinn and Clinton Morrison for Palace.
It was the same Morrison who opened the score after 24 minutes by taking advantage of a poor defensive header by Alex Rae. Minutes later Morrison had the chance to make it two but his shot did not find the net.
From then on Sunderland dominated the match and strike force Phillips/Quinn had several big chances after the interval but Palace goalkeeper Alex Kolinko did what he had to do.
The injury to Eagles defender Fan Zhiyi proved to be the turning point. He had to be substituted by Neil Ruddock.
Sunderland created more and more chances only to find Kolinko in their path, but then they found the net twice in two minutes. First Quinn, on 72, and then Phillips, on 73 minutes, turned the scoreline around.
It then seemed all over for The Eagles but one minute beefore the final whistle midfielder Steven Thomson found the net to take the game into extra-time.
Twelve minutes into extra-time Phillips scored his second of the night after a bad mistake by Neil Ruddock.
Then Sunderland's Daniele Dichio was sent off with a second yellow card and this could have got Palace back into the game but it was Kevin Kilbane who sewed the game up for Sunderland who will now face Ipswich at home in the fourth round.