February 2 2006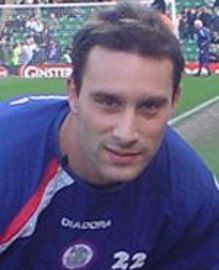 Marco Reich has revealed he snubbed offers from one Premiership and two Bundesliga clubs in favour of committing his future to Crystal Palace, by Stuart Pink.
The 28-year-old German international, who made his comeback in Saturday's draw with Preston after six weeks out with a foot injury, admitted it was always his intention to stay with the Eagles, despite receiving some tempting offers from English clubs and his homeland of Germany.
Reich said: "I had a few offers from other clubs, one club in the Premiership and two from Germany but I definitely wanted to stay at Crystal Palace."
Reich signed a new 18-month deal last month after weeks of lengthy negotiations which looked to put the deal in doubt, but the Palace midfielder put the delay down to the number of different parties involved.
Reich said: "The point was I always wanted to stay at Crystal Palace since the first day. I've been here for four months and I wanted to stay. With the contract it takes a while to sort things out because every part involved wants to be happy.
"Crystal Palace and me always wanted to continue the partnership."
Despite committing his future to the Eagles, it's been a frustrating time of late for the German who is disappointed he hasn't been able to play since his contract negotiations were completed.
But Reich, who became a massive hit with the Palace fans before his injury, is desperate to show everybody at the club what he is really capable of and warns that fans haven't seen the best of him yet.
Reich said: "I had no pre-season, then I picked up form and then I had an injury so I hope I'll be soon back fit and showing what I'm capable of.
"I hope in two or three weeks I'll be 100 per cent fit."
During his time on the sidelines Reich witnessed a rise of fortunes at Selhurst Park with his team mates embarking on an impressive eight game unbeaten run.
Reich admitted that the Palace team he returned to on Saturday is a much different outfit to the side he played in before his injury, which makes him even more desperate to win his place back and play a pivotal role in taking the Eagles back up to the Premiership.
Reich added: "It makes it much easier for a player to come back into a team where everybody is confident and can help you a bit.
"In some situations you are more relaxed, that is the big difference and you believe in yourself more."