February 5 2006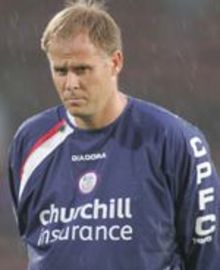 Neil McDonald claimed Palace got their just rewards with a vital win against play-off rivals Cardiff.
Aki Riihilahti's second-half winner kept Palace on course for a top-six finish as they held on despite the late dismissal of Fitz Hall.
Assistant-boss McDonald felt Palace could have won by more and said: "The win was thoroughly deserved.
"It was only a matter of time before we got the goal.
"It was the reaction we needed after losing 2-0 at Preston last Tuesday, and it moves us three points further ahead of Cardiff.
"We thought we should have had a penalty. Andrew got a touch to the ball and was brought down. We were very unfortunate not to get the decision."
Hall faces a three-match ban after he saw red for an off-the-ball incident.
McDonald added: "I didn't see the incident, but Fitz is upset in the dressing room and feels as though he let his team-mates down.
"Luckily, we stuck together and managed to hang on."