February 6 2006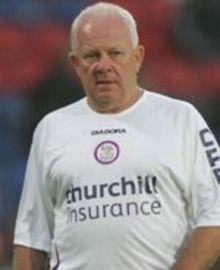 A bedraggled Red Dragon has been turned over at Twickenham and sorted out at Selhurst. Jamesey deliberates.
A warm glow - not entirely due to Young's Special bitter - enveloped me after our 1-0 victory over Cardiff City (Feb 4) on Saturday evening.
Personally, I last saw Cardiff City play in our clinical win (0-2) at Ninian Park during Easter 2004.
We didn't know it at the time but we were heading for the play-offs and would return to Cardiff within a few weeks as contenders and leave as a Premiership club.
Although, in my view, we well deserved the three points in the more recent game, Dave Jones, that admirable and talented manager, has built Cardiff into an efficient and formidable unit.
Nevertheless, nobody in the area where I sit in the Main Stand had an inkling why Fitz Hall was sent off in the second half.
Kenny Sansom and other pundits on the football radio stations have suggested it was for lashing out in an off-the-ball incident with Cardiff's Cameron Jerome. But, as I write, I have seen no video replays or heard any other explanations, so time may solve the mystery.
Anyhow we have overtaken Preston into 5th place in the Championship League and, hopefully, that is a good omen for our FA Cup replay with PNE at Selhurst on Tuesday (Feb 7).
On a different topic, I was upset to hear the announcer calling our 1990 Cup Final evening in April a "Geoff Thomas benefit".
This sends out a totally wrong message. The re-enactment is not to raise money for Geoff's personal bank account but to fund leukaemia research. I hope the club clarifies this next week.
And to conclude, a passage in Harbin's Diary in the Cardiff matchday programme caught my eye.
Referring back to last week's 0-2 league defeat at Preston (Jan 31), John, looking for positives in even the most darkest (sic) of hours, launched the following extraordinary load of codswallop.
I quote:
"An example of this is the story of a guy who is hanging off a cliff. Down below were the smiling tigers waiting and at the top the tigers were waiting for him and chewing at the rope coming to eat him. On the cliff edge were some sweet berries and so he ate the berries, that was his positive even at his worst hour. Even in his darkest hour, he saw the positives and enjoyed the berries for that fleeting second before he went to his fate. In our darkest hour at Preston in midweek, one of the positives there were the travelling fans..."
Er, thanks, John
No disrespect to the travelling fans but really!
John Harbin is not listed on page 3 of the matchday programme so I am unaware of his official title.
I suggest "First Team Barmy Mystic and Crackerbarrel Philosopher".
---
Email Jamesey with any of your comments to Jevans3704@aol.com
In Depth Jamesey's Veteran View Index