February 9 2006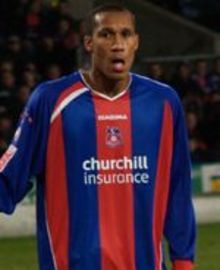 Crystal Palace defender Fitz Hall revealed his disbelief after being sent off against Cardiff City on Saturday and played down worries over his discipline, by Stuart Pink.
The 25-year-old ex-Southampton defender was shown red by referee Anthony Bates after apparently raising his hands towards Bluebirds striker Cameron Jerome.
But Hall, who before Saturday had never been sent off in his Palace career, felt the decision was harsh, especially given Jerome did not appeal.
Hall said: "I can't really remember what happened, we just clashed. He Jerome didn't even shout for the referee. It was just the linesman who saw it and told the referee.
"We were both niggling each other, so I was a bit disappointed I got sent off. I didn't think it was anything."
Hall faces a three match ban for his actions, which will mean he missed the FA Cup replay with Preston North End last night (Tuesday) and the league games against Sheffield Wednesday and Queens Park Rangers.
Eagles boss Iain Dowie said it's unlikely Palace will appeal against the decision,as the incident was not spotted by any television cameras at the game.
Dowie said: "It's very difficult to pick up from the video what's gone on, but from what I gather it was certainly a case of six-of-one, half-a-dozen of the other.
"Fitz isn't entirely blameless, because it was a stupid reaction. But I felt the four officials weren't really on the ball all day, because when AJ was brought down it was probably the clearest penalty I've ever seen."
The suspension will be Hall's second of the season and he has picked up a total of 11 yellow cards so far this campaign.
Despite his collection of bookings and last Saturday's red card, Hall insists his disciplinary record does not mean he is a dirty player.
Hall said: "All the bookings I have picked up are for small fouls, nothing malicious. But I was just angry I got myself in that position on Saturday."
Dowie felt the linesman did not need to get involved, but admitted the defender will still face disciplinary action by the club.
Dowie said: "Fitz knows he shouldn't raise his hands, but these things happen in the heat of a game and I'd like to see common sense prevail.
"He was just trying to shrug off their guy who was grabbing hold of his shirt. But Fitz still knows his actions were unacceptable, so he'll go through the disciplinary procedures