February 15 2006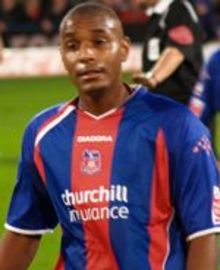 Crystal Palace striker Clinton Morrison has vowed to rediscover the red-hot form that saw him grab seven goals in his first 10 league games after rejoining the Eagles in August, by Neil McSteen.
The Republic of Ireland international is hoping a goal streak will cement his position in Steve Staunton's squad for the forthcoming Lansdowne Road friendlies against Sweden and Holland, but Morrison is aware that he has some work to do after an indifferent couple of months at Selhurst Park.
Morrison said: "I would be the first one to say that over the past four or five weeks I've taken a dip in form. It takes a big man to say that and yes I maybe did need a rest.
"I'm ready to go back in the team and do what I do best and that's scoring goals and helping the team win."
A shoulder injury has hampered the 26-year-old's attempts to reclaim a regular starting berth much to the frustration of the Tooting-born striker who admits he hasn't played the number of games he had hoped since rejoining the Eagles.
Morrison said: "I'm trying to get back in the team and yes of course I'm disappointed I'm out at the moment, but all I want to do is play football.
"I came back to Crystal Palace to play football. I've been injured with my shoulder, I missed the last game because of it and it has been troubling me for a few weeks. "It's still not 100 per cent but it's getting better now so hopefully I can get my game back."
Despite his limited appearances in recent weeks, which has seen Morrison start only three of the last eight league games, the Palace striker admits his confidence has not been affected and insists he's the man to end the Eagles' current scoring problems.
Morrison said: "I still have the confidence. If the chances come my way I'll be there to put the ball away.
"Most of the strikers haven't been scoring at the moment, everyone's going through that patch but we've still got to keep going."
The Irish face a tough task to qualify for Euro 2008 following last month's draw which pitted Staunton's men against some of Europe's big guns, including Germany, Czech Republic and Slovakia. But Morrison is hoping he can play a prominent role in his country's qualification campaign.
Morrison added: "Steve Staunton has spoken to me a few times to see how I am. Hopefully I will get picked but obviously I've got to play well for Palace before I can get picked to play for my country."