February 23 2006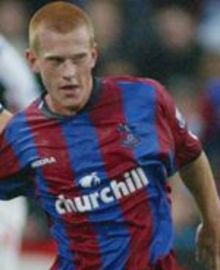 Whether or not you consider Millwall our main rivals or indeed whether Lions fans hate us or West Ham more, at 3pm on Saturday nothing else mattered both teams and everyone associated with them wanted the win. Badly, by Neil McSteen.
We haven't beaten Millwall under Dowie with the feeling being that our neighbours from South Bermondsey, while being inferior on paper, always raise their game for the occasion.
That notion was definitely put to bed at the weekend with the Palace players now knowing what this game means to the fans.
Not least Ben Watson who once again scored. The man from Camberwell, who as we all know has plenty of Millwall mates, just can't help saving his goals for our south London rivals.
Yes, I was gutted that Ben May stole a famous victory away from us especially as we'd taken a sizeable away following for the first time in ages beating the 1,979 Lions fans that visited us in December.
A combination of heavy policing, the new walkway and result also meant that there wasn't any disorder unlike the scenes that occurred after Stoke vs Birmingham in the FA Cup.
Believe it or not, I don't really want Millwall, or indeed Brighton, to go down. Rivals only mean something when you are competing at the same level. Bring on the day when we can take 5,000 down to the Seaweeds' new stadium and stuff them 5-0 (again) to go top in the Premiership.