April 2 2006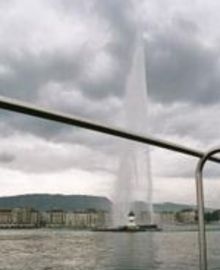 When is an away game not an away game? Jamesey filled the Watford gap in a Geneva bar.
I have honestly confessed in this column over the years that my away record is really rather poor.
Since I became a gentleman of leisure I have endeavoured to improve matters, but the trouble is that when you are retired and have nothing specific to do, you are so much busier than before, doing things that you like doing.
Where is all this leading, I hear you all say? Well, I have only been away three times this season - if you can honestly count Watford as away - so when I realised that I would be abroad for our home evening game against the Hornets on Mar 31, I decided that I could legitimately count that one as away too.
I don't ski and never have. When I was young and fit, skiing was an activity only pursued by the rich and privileged. We ordinary folk went to Margate, Blackpool, or later on, the ultimate sophistication of the Costa Brava, for our annual two-week summer holiday.
Times have now changed dramatically but at the risk of going too far off-topic, irritating the editor and annoying the HOL youth even more than I usually do, can I quickly recommend the advantages of skiing trips for non-skiers like me.
A friend who is a fanatical skier has just bought a chalet in a village high in the French Massif and I have spent a couple of days with him and other friends.
The enormous advantage of being a non-skier in a ski situation is that you can enjoy all the pleasures of being in a beautiful snow landscape, going up and down in chairlifts, and indulging yourself in the apres-ski and, in my case, the deja-ski as well.
And all this fun can be had without getting chilled on the piste and enduring the discomfort of being in contact with cold, wet snow.
Anyhow, coming back down into Geneva, I realised that I would have to make a serious effort to see the home Watford game.
An "English" pub was found and after a delicious curry, Geneva style prices at £12 a dish, I fought my way into the establishment, near the central railway station.
As seems to be the rule in France and French-speaking Switzerland, any football game with a commentary in English is soundless, not that one would hear much with the pain-level music searing your earholes.
The Friday night booze fest is gradually taking over Europe and even civilised countries like Switzerland, now have their city centres filled with shrieking gangs who can't take their drink.
Nevertheless, I watched the game although bobbing about to see through people's backs and having no commentary makes it difficult to appraise how it went, apart from a lovely 3-1 final scoreline.
Like a striker who wants an obvious own-goal as his, I claim my Geneva experience as an away victory and I don't care who wants to argue about it.
---
Email Jamesey with any comments to Jevans3704@aol.com
In Depth Jamesey's Veteran View Index