April 4 2006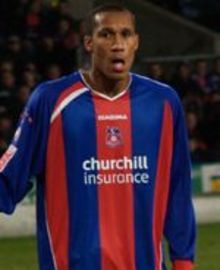 Fitz Hall admits Palace have found it hard to cope with life in the Championship.
Iain Dowie's side have managed to stay in the play-off race without ever hitting peak form.
Eagles defender Hall puts that inconsistancy down to the time it takes to recover after being relegated from the Premiership.
By the time Palace had re-adjusted to the more physical style needed outside the top-flight, automatic promotion was already out of reach.
Hall said: "Towards the end of last season we started to play really well in the Premiership, but we had a slow start adapting to the Championship.
"Results speak for themselves. You can see how much the other relegated teams, Norwich and Southampton have done this season.
"We look at ourselves and we want to do better. We have fought hard and we are now in fifth place, but we still want to continue to improve and finish as high as possible."
Meanwhile, boss Dowie has warned his players not to slack off between now and the play-offs.
It would be easy for Palace to go through the motions now as they are almost certain to finish in the top six but cannot realistically get automatic promotion.
But Dowie knows momentum going into the play-offs can be vital and he said: "We will continue to go for games and to be positive, trying to win as many as we can.
"There is no question of our slackening the pace, this is the go-hard time for us."