April 7 2006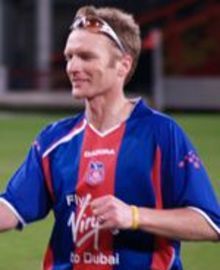 It was a proud night indeed for CPFC, Manchester United and football itself, writes Jamesey.
It was not a night for the mean of spirit when, inspired by Geoff Thomas, the Cup Final of 1990 was reconstructed at Selhurst Park (April 6).
The game was played with enthusiasm and humour and the superb crowd of 15,000 behaved in the best manner for such an occasion - with fairness and appreciation, and let's hope the coffers of leukaemia research funding were overflowing at the end of it.
Particularly satisfying were the great receptions from Palace supporters to Sir Alex Ferguson and Bryan Robson among others, appreciating their presence.
Apart from a little pantomime villain type booing for guess who, yes Steve Bruce, when his name was announced and a little Cantona chanting from the Man U fans, there was nothing but sweetness and light.
Any individuals intending to abuse particular players or individuals obviously stayed away and away was the best place for them on a night of such emotion and nostalgia.
Well, Man U won the match 3-1 but the night wasn't really about the actual game. For those of us who were fortunate enough to be at Wembley on that afternoon in May 1990, it was a joy to see so many players who, like us, were there on the day.
And, like us, some of them were thinner of hair, rounder in abdomen girth and shorter of breath, but that's the human condition.
On the other hand, why John Salako isn't still playing at least Championship football is a total mystery to me.
And Simon Jordan goes up yet another notch in my estimation. Not many league football chairmen could shuffle to the cigar box, never mind come on and risk ridicule on the football field in front of the fans.
I think to we older supporters, that cup final represented the zenith of a long and painful struggle over an entire decade. We started at ground zero in 1981 and under the leadership of Messrs Coppell and Noades pulled ourselves up by the bootstraps to top-level football again.
To conclude, I quote the words of Geoff Thomas, in the match programme: "As for the Palace lads fom 1990, I never doubted for a minute that they would want to get together for a reunion!
It's human nature to get all dewy-eyed and nostalgic when you look back at enjoyable times in your life but that era at Palace was a magical time - and a magical team."
Hear, hear, Geoff.
---
Email Jamesey with any comments to Jevans3704@aol.com