April 20 2006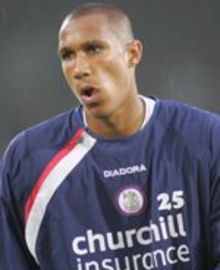 Crystal Palace defender Fitz Hall insists the Eagles are taking their remaining league games seriously and are not just waiting until the play-offs commence in two weeks, by Stuart Pink.
The 25-year-old should return to the Palace line-up to play against his former club Southampton this Saturday after a strained quad has prevented him from taking part in the Eagles last two games against Crewe and Burnley.
Palace only mustered two points from those two fixtures which has led to speculation that the Eagles have taken their foot off the gas in preparation for the play-offs.
Monday's draw against Burnley even prompted Palace boss Iain Dowie to descibe his side as playing with a "laissez-faire attitude".
Hall feels quite the opposite: "We've not been slacking in these recent games. We want to go into the play-offs winning and hopefully get to third place," said Hall.
"At least then at the end of the season we can say we came third which will be an achievement. But I know all the players want the play-offs to start tomorrow."
The Championship is in the unusual position of having the two automatic promotion spots, the four play-off places and three relegation places already decided with two games to go, meaning apart from the order of the play-off positions, it is only pride teams can play for. It is a position Hall thinks is a little strange.
Hall said: "It does seem weird being in the play-offs with three games to go and all the places being secured.
"It feels like the matches we are playing at the moment are like friendlies with the season actually starting when the play-offs start."
Hall was an avid spectator of both the games he missed and feels criticism of the Eagles draw against Crewe was harsh but he can understand the disappointment regarding the goalless draw at Burnley.
Hall added: "The Crewe game wasn't that bad because we battered them and it was one of our best performances of the season.
"But for the Burnley game we had a few new faces who haven't played for a while and it just didn't click for us all game."