May 11 2006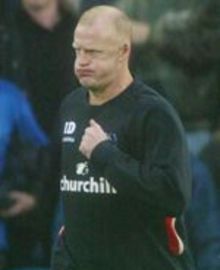 So, our promotion campaign is over for another season and it ended with a whimper as despite a lot of effort, we could only draw 0-0 at Vicarage Road - a result which sends the Hornets to Cardiff, writes Simon Pophale.
The reality of the situation is that we have not scored for nearly 300 minutes and we did not look like changing this depressing statistic last night. Despite having the lions share of possession, I canít remember Ben Foster having to make a real save all game.
Dowie changed the personnel for this match, giving Gary Borrowdale, Dougie Freedman and Mikele Leigertwood the chance to turn this game around but our first effort fell to the impressive Jobi McAnuff, whose shot was high over the bar on 12 minutes.
Minutes later, Freedman set up AJ whose run on goal was halted by Ben Foster, who smothered the ball at the strikers feet.
Despite having a lot of the possession in the first 30 minutes, the final ball on occasions was poor and Jay DeMerit and Malky Mackay, who were untroubled all night by this tactic, met our policy of pumping long balls to AJ and Freedman, with glee.
Yet we so easily could have fallen behind on 41 minutes when Popovic miscontrolled a ball and Marlon King ran 20 yards but Fitz Hall chased back to deny the Championships leading scorer from adding to his tally with a superb saving tackle.
AJ had found few crumbs to feed off during the 1st half but Watford made sure that he knew that he was not going to have it easy as Al Bangoura cynically kicked out at the England striker on 43 minutes. He was booked but in all honesty, it deserved more than the yellow card that was brandished.
If that was setting the blue touch paper for the match, it fully kicked off in the second half as on the hour, the ball went out for a throw-in just in front of the technical areas. What happened next was unbelievable as Aidy Boothroyd knocked the ball behind him, stopping Fitz Hall taking the throw quickly.
Hall elbowed the Watford manager and in the melee that ensued, literally every player and member of staff was involved as Dowie hit out at a backroom Watford staff member, Soares was right in the middle of it all and while all this was going on, a Palace fan made his way onto the pitch, took the ball and dribbled it into the net, it would be the only time we got the ball in the net all night.
Dowie clearly was running out of ideas and changing players like for like was not going to make a difference. Taking off Popovic for Marco Reich with 20 minutes left was a sign that it was too little, too late.
Despite Macken coming on for Freedman, he could only head the ball over late on and when Jay DeMerit nearly turned the ball into his own net, it was clear that it was not going to be our night.
At the end, it could be the last time that this team and squad will be together as there will be departures in the close season.
I am not going to mention any names but we all know, that another season in the Championship for some of our Internationals might be just a step too far. We will have to wait and see