June 25 2006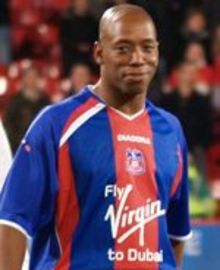 A television montage of Crystal Palace's 100 years of football would be a lot of static, then footage of Ian Wright scoring in the 1990 FA Cup final against Man United, followed by the odd chastening Premiership campaign, writes Robert Selby.
The name 'Ian Wright' is always the first thing a Palace fan will hear when he owns up to being one, as if Wright himself formed the club, made it a founding member of the football league in 1920, and single-handedly dragged it to its first (and as yet only) FA Cup final.
A slightly older generation may mention Malcom Allison with his fedora hat, taking Palace to the semi-finals of the Cup in 1976 from the third division.
In that team was Peter Taylor, then a speedy, incisive forward who would go on to represent England, and who over the summer became the new Palace manager. In that cup run, Palace played Chelsea at the Bridge, beating them 3-2, with two goals in three minutes from Taylor himself.
These days, instead of Allison's verbosity, the club has Simon Jordan, the opinionated, Faliraki-tanned chairman. At the start of the most recent campaign, he proudly predicted Palace would win the Championship after being relegated for the fourth time from the Premiership, fatally forgetting that the football gods have never been too kind to Palace, nor to blasé statements of superiority.
The team, mentally soft and unprepared for the cut and thrust of lower division football, bottled it in extremis, culminating in the quite humiliating (yet fully deserved) defeat at home to Watford in the play-off semi-final.
The atmosphere from the Palace fans that day was muted: to those who'd turned up all season, the approach of the play-offs was akin to witnessing an impending train crash and being powerless to prevent it.
n the fallout, little Andrew Johnson, the best player Palace have had since Wright, finally moved to a Premiership club. Iain Dowie, messiah just two years before, became the villain as he exited stage right to Charlton, leaving Jordan to search for his sixth manager in as many as years.
Palace has always been a club to attract pantomime, and it reared head in Charlton's press conference to unveil Dowie as their new boss. A bailiff entered brandishing a writ from Jordan which claimed Dowie had illegally broken the rules of his contract by lying over his reasons to leave the club.
It was almost as if Jordan was attempting a last ditch effort to make the season as theatrical as the previous hundred, after what was an uncharacteristically subdued affair.
Jordan has made it clear before he holds no love for Charlton, and most Palace fans back him in battling for what is best for the club he supports (playing Wigan, Bolton and Everton off against each other to raise Johnson's value was a master stroke), but at times he risks making the club a mere tool for his own ego.
The club, due to its many eccentricities – stealing their colours from Barcelona and passing off garden sheds erected in the centre circle as matchday entertainment to name just two – has often rendered itself insubstantial in other football fans' eyes.
On one website recently, Watford fans sighted their Palace counterparts as the worst set in the Championship, claiming them to be a prime example of 'the worst kind of nauseating post-Euro 96 wig-wearing plastic fans' in the division. Perhaps though, it is precisely the opposite – the lack of one uniform identity - which undermines Palace support.
A club that is constantly trying to reinvent itself, whether it be player turnover, manager changes or shirt colours, can alienate its own fans, disunifying and rendering ambiguous the very heart of the club people need to feel a belonging to in order to create a sense of community.
This detachment is felt on matchdays when vocal support is poor, and no matter how much ticker tape is thrown or banners held aloft, a sense of union cannot be artificially created from the outside: it must come from within.
It has traditionally been sighted that a more middle-class support perpetuates the disengagement, but this is as uneasy argument; why should someone be less passionate and vocal about their team because they drive the kids to school in a Volvo? Today of course, gentrification is not solely a Palace thing.
The lack of any genuine success on the field means the club has to turn to gimmicks as consolation. This started with Allison and his fedora and cigar, then the red and blue stripes and the rather random adoption of 'Eagles'. User friendly football was alive and kicking in Croydon twenty years before the dawn of the Premiership.
Then came the spurious linkup with Juventus back in the 1990s and the buying of the first Chinese players to sell television rights to China.
Twenty million Chinese football fans watched a 1-0 win over Sheffield United during the 1998-99 season, most of them no doubt bemused and waiting for the Sky cameras to flick over to Old Trafford. The club will pioneer anything to mask the fact it continually underachieves where it matters.
Football fans, never the most impartial, are notoriously good at blinding themselves to the deficiencies of the club they love, but the Palace contingent seem especially prone to inhabiting a whole new realm of delusion. A simple illustration was visible on Palace messageboards after Dowie left by 'mutual consent'.
Who had Palace fans had in mind for their next boss? Mike Newell, a good young English manager who has introduced crisp passing football to Luton Town? Peter Taylor, former Palace legend who has reasonable managerial credentials?
No, names that were bandied included Martin O'Neill and Sven! Admittedly, Jordan had come out in the press claiming he had his eye on a 'big foreign name', but he will seek to hype any attention he receives over the club in order to raise its profile.
Ever caught up in the Crystal Palace soap opera, most Palace fans had seemingly neglected to face up to the salient points. Namely, why on earth would these managers move to a second tier side with second rate players and an overbearing chairman?
Is this merely ignorance, or arrogance? Already, a year before, there had been a West Ham-esque feeling of 'we're too good for this division' before even a ball had been kicked, a clear example of the delusions of grandeur simmering beneath.
Other Championship clubs detect over-confidence as acutely as sharks smell fresh blood in the ocean. Palace were repeatedly mauled, finishing 31 points behind actual winners Reading, managed by Steve Coppell – the Eagles legend Jordan had sacked six years before – losing 11 more games and scoring 32 fewer goals.
As is the money-making custom, the club released a centenary shirt to celebrate a hundred years of 'passion and pride'. Mostly white with claret and blue central stripes, a mimic of the 1970s fans favourite, it was priced at £50, used in all of three games and fell apart in the first rinse cycle.
This from the club who had infamously marked their entrance into the Premiership in 2004 by selling replica kits with the proud insignia 'Chrystal Palace' on the waist. As at most league clubs, the fans recognise the deficiencies in the club's organisation echoes down to the organisation on the pitch itself.
Most successful modern businesses are aware of the pyramid approach where efficiency at the top means efficiency down below. But business professionalism has bypassed football, the oldest 'professional' sport in the United Kingdom (illustrated most clearly in the miserable way the FA's conducted its search for the new England manager).
Resentment at how the club is run can only increase when the club charges up to £30 for a meaningless end of season encounter against Crewe Alexandra. Not having been lowered since relegation, there can be no justification for these prices, especially when the dross expounded by Dowie's team turned afternoons into a damage limitation exercise in self-harm for spectators.
As one hundred year old Chelsea waltzed the Premiership and eyed up every world class player on the planet, one hundred year old Palace remains in largely self inflicted obscurity.
Of course, a club of Palace's size can never compete with the might of Chelsea, but when young fans turn away from Selhurst because of the expense and skip along to West Ham and Charlton instead (cheaper prices and Premiership football), that is unforgivable.
Quite foreseeable is a time when Palace will be a much smaller club than they presently are, which is of course the polar opposite of Jordan's grand vision. The 18,000 fans he can currently take for granted are ageing.
It's been a 101 years of Crystal Palace Football Club. A toast could be raised for the next hundred, but I suspect the football map will look a little more threadbare in a century.
So here's to the devil we know and the turbulent now, and let us squeeze as much masochistic pleasure from it while we can still (just about) afford it. And maybe someone will stumble across the next Ian Wright in the meantime.