June 26 2006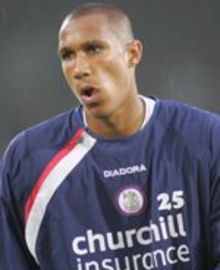 Fitz Hall has completed his move to Wigan Athletic for a reported £3m.
The 25-year-old had a successful medical and has signed a four-year contract with the Premiership outfit.
Wigan boss Paul Jewell was delighted to secure the services of the former Southampton centre-back.
He said: "Fitz is a terrific capture for us, and it's a great boost that we've beaten off such stiff competition to land him.
''We've been tracking him a long time, but of course Palace were very reluctant to let go of such an important player.
''The Wigan fans will love him, he has everything you could look for in a defender. He's strong, athletic, aggressive and most importantly, has bags of pace.
"The lad won't be fazed by the Premiership, he's played at this level before and I was extremely impressed with how he handled the challenge.
"I think he's an even better player now that, at 25 years of age, he's in the prime of his career.
"It's a great boost to have completed our first signing of the summer and I'm sure this will give us the momentum to go on and bring in our other targets.''
Speaking about his move away from Selhurst, Hall said: "It's always difficult leaving a club where you've been so happy.
"I'd like to thank the Palace fans for being so good to me, but as a player the Premiership is where you want to be and when a club as ambitious as Wigan came in, there really wasn't any hesitation."