July 4 2006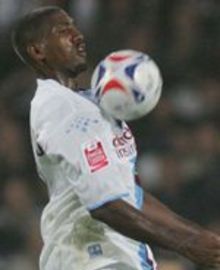 Mikele Leigertwood has left Palace to sign a three-year deal with Sheffield United.
Leigertwood was out of contract this summer and was waiting until Palace appointed a new manager before deciding on his future.
However the lure of the Premiership has been too much to ignore for the former Wimbledon defender/midfielder and he has signed with Neil Warnock's Yorkshire side.
Due to the player being under 24, Sheffield United have agreed a £600,000 compensation fee with the Eagles.
Leigertwood was suprised about the move up North but was looking forward to it.
"I wasn't expecting to move to Sheffield, but it's happened and I'm really looking forward to it," he said.
"I had discussed a contract at Palace, but things didn't go right with the way I was treated. United came in and so I opted to come here.
"When I spoke to the manager he didn't have to sell the club to me. I'm going to be playing Premiership football again and that was a major factor in my decision.
"There was interest from other clubs, but Sheffield showed the most, and after speaking to the manager and my family, we decided to move here.
"It's a big step for me moving away from my family, but I'm sure I'll adapt."
Warnock was delighted to capture Leigertwood. "He's had experience of playing in the Premiership with Palace and he can play in a number of positions," he said.
"He can anchor midfield and has played both full-back roles and centre-half in the top flight.
"It is a great to have another utility player available to us, especially as we don't know what our numbers will be like by the time the season starts."
Leigertwood is looking to develop his game into one role despite being marked as a utility player.
He added: "I'd like to nail down one position and get some consistency going. It can be a bit of a downer moving around, but you'd rather play than not, and I'm more than happy to play anywhere."
Meanwhile goalkeeping coach Tony Burns has joined Palace from rivals Milwall. Burns was at the League One outfit for 14 years.