August 24 2006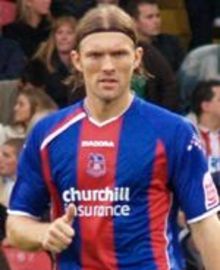 The thrill of stealing one of your hated rivals' best players is one of football's true pleasures.
So when Matt Lawrence joined Palace this summer, becoming the latest in a long line of Millwall stars to decide he was better off plying his trade across South London, the move generated more comment than your average £50,000 transfer.
While Millwall fans were quick to point out that Lawrence was well past his best, Palace supporters gleefully celebrated a transfer trend stretching back over 30 years.
Derek Possee was the first high-profile Millwall player to make the short journey to Croydon when the striker joined Palace midway through the1972-73 season.
Skilful winger Anton Otulakowski was next to make the move just before the start of the1986-87 season.
Chris Armstrong was unknown outside The Den when Palace chairman Ron Noades persuaded Steve Coppell to pay £1m to buy the striker in 1993.
To compound Millwall's misery as part of the deal to sign Armstrong, Palace offered Millwall the choice of signing either Jamie Moralee and Stan Collymore. Mick McCarthy went for Moralee. Enough said.
Palace's £2.25m capture of Andy Roberts in 1995 is the biggest deal between the clubs. Bobby Bowry and Ricky Newman, a pair of mediocre graduates from the Eagles' youth system, were signed by McCarthy to replace Roberts but neither proved capable of filling the sizable hole left by the tubby midfielder.
Darren Ward was next to make the switch last summer in a £1.5m deal and former Lions team-mate Lawrence has joined him just a year later.
However it's the quality, or lack of it, of the players going in the other direction that says everything you need to know about the clubs' contrasting spending power.
While Palace have often been able to cherry pick Millwall's best talent, the reverse has never been true and the roll call of has-beens and never-weres to leave for The Den include Phil Barber and Carl Veart, as well as Moralee, Bowry and Newman.
Only Paul Sansome and Welsh striker Steve Lovell in the1980s, enjoyed the best spells of their careers after moving to Millwall from Palace.
But for all their superiority in the transfer market, Palace have struggled to produce the goods where it really matters - in the derby clashes between the clubs - so maybe money isn't everything.
In Depth The Millwall Rivalry