September 19 2006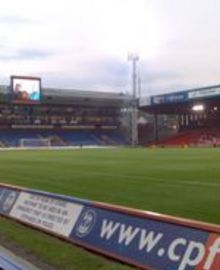 Laddo is leaving South London for a new life in Hull - but he says his love for Crystal Palace will remain as strong as ever.
So this is it. One more night in the Croydon Riviera before I move up to Hull. Two years ago I made the mistake of charming a girl on a lads' holiday and now I'm moving. What an idiot! But before I go I feel there is something I need to share.
As we have just started a new season the optimism around Selhurst is high and there is a huge buzz around the place.
In charge we have a legend in Peter Taylor who promises so much, as opposed to sound bites and tactical ineptitude every week. It is important however to remember where we have come from, and more importantly who we are.
Every week I have the same row with a few Chelsea fans who I mistakenly believe are good company over a beer. As per usual, 99.9% of the time they're boasting about how they are top of the Premiership and how jealous I am of them. The truth is however that I'd rather be Palace than that lot from the King's Road. Why? Simply because we're Palace.
It comes down to mentality. When I surround myself with Palace fans at home or especially away I appreciate the blind optimism they and myself feel. It doesn't come from high expectations, more from the fact that we are constantly promised so much but are rewarded with so little.
We sing our hearts out, believe in the team, but more often than not go home waiting for the inevitable texts and phone calls to come through from heartless mates who support Premiership clubs, revelling in our misery. This hurts and naturally cuts us up enormously.
It's similar to having a strange family member who everyone outside the family circle laughs at. You want to stick up for them but you know deep down they're an embarrassment.
Despite this you will stick up for them though. I'm not ashamed to admit that on beer induced evenings I've nearly come to blows with mates who claim that Chelsea/Arsenal/United or any other established Premiership club are a better and bigger club than us. Embarrassing yes, but I just won't have it.
No we haven't won titles, no we haven't played in Europe, and yes we are a Championship side, but have you ever travelled up to Sunderland and celebrated winning a penalty shootout like your life depended on it?
Have you ever cried when you've lost at home 3-0 in a play-off semi-final? Have you ever carried on cheering your team's name on a train back from Charlton after you've been relegated? No? Then you have no idea about football and what being a Palace and true football fan is really about.
So as I embark on my new life the one thing that is pulling me back is the Palace. Not so much because I love them but more deeply because they are a metaphorical mirror of life. From now until the day we die, we'll have ups and downs.
We'll love women and break up. We'll be high-flyers and then be made redundant. We'll have people one minute and lose them the next, we'll believe and then hopelessly despair as reality bites us on the arse. And while all this is going on Palace will echo all those feelings.
Do I wish it was any different? Of course not! Let's be proud of this club no matter what the ups and downs are. Never forget that we're Palace, and Glad All Over whatever the result.
I'll be back watching the boys at home at least once a month. I'll risk the wrath of my lady as I walk out of the door on a Friday night armed in Palace gear and an overnight bag.
Right now all I'm thinking of is roll on September 30 and Hull City away (home, if you catch my drift), and finally never forget, be loud, be proud, be PALACE!!!