October 16 2006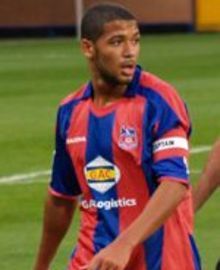 Jobi McAnuff has played down talk of dressing room unrest at Crystal Palace.
Boss Peter Taylor admitted last week he has had disagreements with Clinton Morrison, Michael Hughes and Shefki Kuqi after leaving them out at various times of the season.
And morale in the Selhurst Park dressing room will hardly have been lifted after Palace slumped to a 2-1 defeat against Cardiff on Saturday that left them nine points adrift of the Welsh table-toppers.
Republic of Ireland striker Morrison, who was reported to have rowed with Taylor at half-time of Palaceís last match at Hull, was left to stew on the bench for the entire 90 minutes against Cardiff, while Hughes was sidelined with a knee injury.
But, despite a run of just two wins in their last eight matches, winger McAnuff, 24, is adamant there is no unrest among the Palace players.
"Everythingís all fine," he said. "Thereís going to be people not playing who want to play Ė and arguments are part and parcel of football. Itís happened at numerous times during the season at every football club Iíve been at.
"Itís nothing new and I donít think any player can say itís not happened to them before. Itís about how you deal with it.
"Everyone has got on with what they have to do and itís not affected the performances from those individuals or the team. As soon as itís happened, itís been quashed. Itís not a major factor in us losing."
Stuart Green, 25, admitted he was determined to make a good impression in front of the Palace faithful in his first start since a £75,000 move from Hull.
He said: "Scoring is great for me on a personal note on my debut. I scored on my Hull debut too. I made a run and got a fantastic ball from Jobi to score.
"Thereís no way Cardiff are a better team than Crystal Palace - things are going for them at the minute. With the players we have in our squad, thereís no doubt weíd be up there."