November 18 2006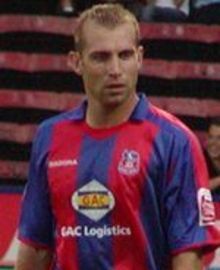 The long wait is over! Clinton Morrison and James Scowcroft ensured a home win for the first time since late September writes Simon Pophale.
Make no mistake, while I think the 20,000-odd Palace fans in the ground were happy with the 3 points, Barnsley were quite simply the worst side to come here all season.
Peter Taylor brought in Iain Turner from Everton but even he would have been surprised with the lack of work that he needed to do, as Barnsley did not manage a shot on target all game. The only other change saw Darren Ward recalled in place of the injured Leon Cort.
From the moment we kicked off, Barnsley were on the back foot. In the 4th minute, a Mark Kennedy free-kick was headed downwards by Darren Ward and Nick Colgan scrambled the ball away.
A minute later, Clinton Morrison shot over after good work by Granville on the left. Barnsley looked uncomfortable every time the ball was in the air and while Martin Devaney tamely shot wide a few minutes later, it would be the closest they would come all half.
From another Kennedy set-piece, this time a corner on 15 minutes, Barnsley failed to clear the ball and it fell to James Scowcroft who could not miss from 8 yards. It was our first goal at home since October 14th.
We could have had a 2nd a minute later. Morrison chased a long ball and he beat Bobby Hassell to the ball, only to be impeded by a clumsy challenge. Referee Friend (or rather – Foe), did not give what was for me a stonewall penalty.
It made little difference as on 31 minutes, Morrison got a goal to boost his confidence, but all the hard work was done by TOM SOARES.
Picking up the ball on the halfway line, he ran past 4 Barnsley defenders and although his shot was saved by Colgan, Morrison was there to knock in the rebound. It might not have been Maradona-esque, but SOARES is slowly becoming the player that we all hope he will be.
Barnsley were all over the place and when half time came, Andy Ritchie would have been a relieved man. It has been a long time that we have dominated a game and come in at half time ahead.
Yet the 2nd half was more of a stroll than a competitive match. Barnsley still did not manage to even trouble Turner with an effort on target, while we were playing the ball comfortably around the pitch.
McAnuff went closest with a low shot which hit the side netting on the hour, while the constant stream of crosses were unsettling Barnsleys defence time after time, however we could not add to the tally.
Micheal Hughes had the last chance, firing a free kick over with a couple of minutes left but long before then had the result not been in doubt.
It is hard to tell whether we have "turned the corner" due to the poor performance of the opposition, but a win is a win and the cheers that greeted the final whistle were in stark contrast to the jeers of recent weeks.
Crystal Palace: Turner, Granville, Ward, Hudson, Butterfield, McAnuff, Hughes, SOARES, Kennedy (Fletcher 84), Scowcroft (Kuqi 71), Morrison (Freedman 77).
Subs Not Used: Flinders, Lawrence.
Barnsley: Colgan, Hassell, Kay, Reid, HeckingbotTOM, McIndoe, Togwell, Howard, Devaney (Wroe 75), Wright (Hayes 59), Nardiello.
Subs Not Used: McParland, Austin, Williams.
Referee: K Friend.