November 28 2006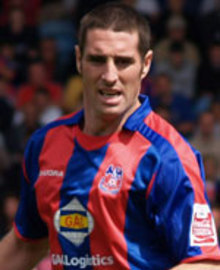 Peter Taylor has challenged Mark Kennedy to show his former club Wolves what they are missing.
Kennedy returns to Molineux on Tuesday night for the first time since his summer move to the Eagles and Taylor wants the midfielder to use the occasion to showcase his talent.
The former Liverpool star is capable of dominating games in the Championship, but he has yet to fulfil his potential at Palace.
Taylor said: "He is a good pro and wants to do well. He will be looking forward to it.
"I think he has great memories there but heís now with us and he want him to be the best player on Tuesday night."
Taylor is convinced that Kennedy should be scoring more regularly as well as he possesses a lethal left-foot and has experience in front of goal after starting his career as a striker at Millwall.
"He has got a wonderful left foot and his goal ratio should be higher. I have a regular pop at him about itĒ Taylor added.
"He did score a great goal in pre-season against the Portuguese team, but thatís all. I havenít seen him do it enough in games so far."