February 17 2001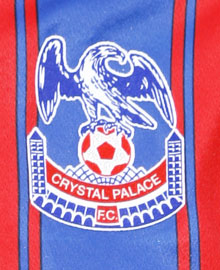 Palace drew 1-1 with Norwich today at Selhurst Park. Mikael Forssell continued his scoring spree with a volley in the first half. Norwich grabbed one back in the second half. Both teams ended up with 10 men at the end, JAMIE POLLOCK getting sent off for The Eagles.
Crystal Palace could find themselves in hot water with the FA after yet another touchline brawl.
The Eagles have been fined before after similar incidents against Nottingham Forest and Gillingham.
Palace's JAMIE POLLOCK and Norwich' Darel Russell were given their marching orders by referee Curson for instigating the brawl.
It was Mikael Forssell who put Palace 1-0 up in the 34th minute. POLLOCK found Dougie Freedman on the edge of the box who squared the ball to the young Fin who fired the ball home from 15 yards.
At the other end Eagles goalkeeper Aleksandrs Kolinko denied Zema Abbey and Steen Nedergaarb.
In the second half Freedman could have doubled the lead for Palace but minutes later Norwich found the net when Craig Harrison deflected a Russel shot past his own goalkeeper.
Palace are now 14th with 37 points from 30 matches.
Post-match comments
Eagles boss Alan Smith believes the 1-1 draw with Norwich should not have been marred by two sending offs.
Smith said: "I think the referee should have been firmer throughout the game - if he was I don't think it would have come to that.
"But we came through the game without Clinton Morrison and Fan Zhiyi and I thought we looked the better side."
Canaries manager Nigel Worthington agreed with Smith's view of the dismissals.
"I think the referee got it wrong and you need to keep it in context. It's a contact sport and the situation was calmed down straight away by all," Worthington said.
"Apart from the sending off I thought we had a terrific game.
"We competed well and our passing was good, especially on a pitch that takes a hammering week in week out.
"But it's a terrific point away from home and a good result from our point of view."