February 19 2001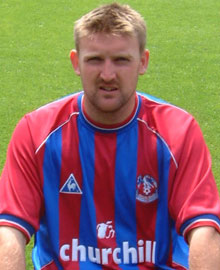 Palace midfielder JAMIE POLLOCK will find out if he is facing a charge from the FA at the end of the week. POLLOCK was sent off against Norwich City on Saturday after he was involved in a mass brawl.
The former Manchester City midfielder saw the red card after being invloved in a touchline brawl on Saturday.
As he walked off however he was seen having a go at an assistent referee and he also kicked the ball away.
The Football Association will wait for a copy of referee Brian Curson's report before deciding what action to take.
Not only POLLOCK could find himself in hot water, also the club may face charges from the FA.
The brawl that led to POLLOCK's dismissal was the club's third this season. Bust ups in the games against Nottingham Forest and Gillingham saw The Eagles being charged by the Football Authorities.
Meanwhile, Crystal Palace have confirmed today that US international Gregg Berhalter will stay at the club on a non-contract basis, with a view to a permanent deal.
Alan Smith said that he would like to see the defender in a competitive match, before offering him a permanent contract.
Berhalter was on the bench against Norwich City on Saturday and he will be in the squad that travels to Burnley on Tuesday night.
After the Barnsley game Berhalter will leave to the US to play a World Cup qualifier against Mexico.