January 8 2007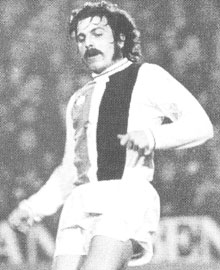 Jamesey took another stroll down Nostalgia Lane during our 2-1 FA Cup victory over Swindon Town.
Well, as we cruise into another year, things don't look too bad. They don't look particularly good either, but we had a good run of results over the festive season and we're through to the next round of the FA Cup - only four more games to Wembley (or Cardiff, more likely).
Reading the match programme before the Swindon game, I was delighted to see that great picture of Don Rogers (photograph by Hy Money?) wearing the red-and-blue stripes that had only recently been introduced and to learn that he would be on the pitch at half-time.
In that picture Don is an almost exact image of what I looked like myself 35 years ago. He is pretty well contemporaneous with me and we both adorned our heads with "Zapata" moustaches, sideburns and longish, scruffy haircuts in those days.
Don's arrival at Selhurst from Swindon in 1972 for a then record fee of £150,000 co-incided with the Jamesey family's return to south-east London and my rebirth as a Palace fan.
We had bought our first house, a miserable hovel in Forest Hill, SE23 - now buried under an industrial estate - for the sum of £9000.
OK, it doesn't seem much now but I was only earning the princely sum of 17 shillings and tuppence threefarthings a week as a publisher's reader. Yes, I know we went decimal in 1971 but they forgot to tell me.
During the next couple of years I saw Don play quite a few times. He was lightning fast and a fluent finisher although he never really fulfilled his early promise.
Seeing him on the pitch was a nostalgic occasion indeed.
I have to admit that I don't look much like Don Rogers any more as those who know me will be all too quick to point out.
But come to that Don Rogers doesn't look much like Don Rogers any more either.
Time's winged chariot has relentless silvered our moustaches and hair and lined our once-handsome (even though I say so myself) faces.
Our speedy former striker also got a great reception from the Swindon travelling support which was hardly surprising as he is greater cult figure there than here.
Don only stayed at Palace for two years before moving to QPR and the shortness of his stay precludes him from being given the legend status afforded to the likes of Jim Cannon, Geoff Thomas and Ian Wright.
But he will always remain in my memory while I've still got some. If only we had one of his like now.
To conclude on a totally different subject, we were treated to the vision of a lineswoman (no I will not call them assistant referees) in front of the Main Stand.
One supporter who sounded as though he's been bashing the beverages a bit, took issue with one of her offside flag decisions and called her a "whore" or "oor" as he pronounced it.
He was approached by the stewards given a telling-off and told to watch his language for the rest of the game.
Now we supporters, even good-humoured ones like yours truly, have been calling the referee a "w***er" for decades without any apparent objection by club officials.
Why is that acceptable, but to call the lineswoman a "oor" not allowed?
It smacks of blatant sexism to me and I demand a full public inquiry.
---
Email Jamesey with your comments to Jevans3704@aol.com
In Depth Jamesey's Veteran View Index